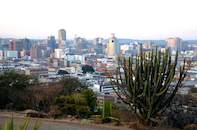 In 1896, Cecil Rhodes' Pioneer column staked its claim to this fertile high-lying plateau with its mild climate and named it Salisbury after a British Prime Minister. Today, the capital of Zimbabwe is named after an ancestral Shona chief, legendary as 'the one who never sleeps' and on the hill called the Kopje, the flame of perpetual Independence burns where once the Union Jack fluttered.
By Laurianne Claase
Harare doesn't quite live up to its name, however, despite the high-rises and teeming construction sites of the city centre. Although it is the most urban and westernised of Zimbabwe's varied landscapes, don't expect twenty-four-hour-a-day city life.However, there is a vibrant African music scene and the Mbare Market is a traditional African market in stereo and Technicolor. Leave all valuables behind and go with a local - for reasons of security, and to get the most out of the experience. Nightlife consists mainly of dining, drinking and discos.
Harare Activites
Less noisy pursuits are to be found, however. Harare is a showcase for the distinctive Shona style of sculpture where mythic beasts and rounded women erupt from polished soapstone. The Harare National Gallery is a good place to find out more.Their outdoor sculpture garden features some of the best examples of the genre. Chapungu Kraal, a few miles from the city centre, offers the chance to meet the sculptors themselves . Along with over three hundred and fifty of the most highly-rated works, there is also traditional music and dance and even a witchdoctor should you need some guidance as to what to take home.Older examples of indigenous art however lie further afield, in the Chinamora Communal lands some 35km (20 miles) out on the Borrowdale Road. Ancient humans, ancestors to the Bushman or San, once roamed Southern Africa. They left paintings on the rocks and thousands of years later the images remain.Although there are many paintings at Domboshawa Cave, time and erosion has damaged them. Visit the Information Centre first to make sense of the pictures. Ngomakurira is a second site nearby whose paintings are in much better condition.Surrounded by game parks, nature reserves and recreational lakes, Harare provides ample alternatives to urban pursuits. There are horseback safaris through the nearby Mukuvisi Woodlands just east of the city or picnic on the viewing platform above the water hole to get a birds-eye view of the small game.For birding enthusiasts, Larvon Bird Gardens, is an opportunity to get acquainted with over 400 species of Southern African birds. Somewhat further afield, Ewanrigg Botanical Garden has an extensive aloe and cycad collection that is at its best during the winter months of June to September.Two lakeside resorts complete the list of things to do outside Harare. Lake Chivero, some 35 km (20 miles) out of town, is Harare's favourite watersports playground, complete with small game reserve which stocks giraffe and antelope and a few elusive rhino.There are a number of accommodation options around the lake. Just beyond Chivero is Manyame Recreational Park, the fisherman's favourite, with few amenities other than camping around the dam and, if you're lucky, African salmon over an open fire.
Chinoyi Caves National Park
Chinoyi Caves National Park is 71 km (43 miles) north of Harare and makes a pleasant lunch stop on the long hot road to Kariba and the Zambezi. The small park houses a limestone cave formed when the ground collapsed into a sinkhole.The deep blue pool beneath is known as the 'Sleeping Pool' and to the Shona as the 'Pool of the Fallen' after the many people who, over the centuries, have lost their lives to the bottomless waters. A look at the mysterious blue pool and lunch under the trees at the adjacent Caves Motel should set you on your way again. But, should you want to spend the night, there is a camping site adjacent to the park.
The Midlands
The cooler, high-lying Midlands, south of Harare, is mining territory. Brought to the surface by ancient earthquakes, the mineral-rich deposits of the Great Dyke ensure that commerce and industry is the region's chief preoccupation.For the adventurous tourist however, this is an area that is little visited . Isolated lakes like Sebakwe Dam and Ngezi Recreational Park provide angling and boating opportunities for those that like their outdoors undisturbed by modern conveniences. Private game conservancies offer more luxurious surroundings.
Midlands Activities
Kwekwe:
This sleepy hollow has little for the foreign tourist and you're unlikely to find yourself here for long. If your car does happen to break down in the vicinity, Kwekwe has a very good gold-mining museum and a fine array of colonial buildings.Fishing and hunting are the two major recreational pursuits in these parts. There is sable and leopard hunting on private farms in the area as well as a horse-riders mecca at the budget Mopani Park Farm, fifty-five kilometres from Kwekwe.They also offer three day riding safaris to Sebakwe Dam, where, you'll find boating and fishing in usually splendid isolation. National Parks maintain the lodges and camping sites which must be pre-booked in Harare. Likewise at Ngezi Recreational Park, fishing is the primary pursuit.Remote and usually only frequented by die-hard local fishermen, there are four basic National Park chalets here with great sunset views, should the fish be off the bite. They must be booked in advance through National Parks in Harare.
Gweru:
For most travellers, Gweru is a town to pass through or to use as a base for exploring the ancient walled ruins of Nalatale, Danangombe, Bila and Zinjanja, out in the backwoods around Gweru.Nalatale is smaller than Great Zimbabwe but as it doesn't feature on tour itineraries, you're likely to have the place to yourself although there is a live-in guide on the premises. It's herringbone and chevron wall decorations are well-preserved and the remote granite hilltop setting is atmospheric.Danangombe is larger although not as scenic. The others are of limited interest and little is known about their history. There are no facilities and access is by private vehicle.Copyright © Laurianne Claase. All rights reserved. Reproduction in whole or in part without the permission of the author is prohibited.