Zambezi National Park is a 5 6000ha (138 350 acre) game reserve on the Zimbabwean side of the river, a few kilometres upstream from the Falls.
It was split off from Victoria Falls National Park in 1979 so that Victoria Falls town could be extended to the river. The main road to Kazungula runs through the park, dividing it into two sections - the riverine side and the Chamabonda Vlei section. The Zambezi Park River Drive has a number of outstanding picnic and fishing sites.
The best game viewing is around Chindu and Sansimba Loops where there are often elephant, buffalo, waterbuck, hippo and crocs. There are often good sightings in the Chamabonda Vlei area and game lookouts at Kaliankua and Njako Pans.
The best way to experience the park is not only to do the game drives but to enjoy the half-day canoe trips, which are launched within the park. The riverine area is excellent for birding. There are a number of riverside camp sites that can be booked at the park gate.
Most of the Zambezi National Park consists of mopane woodland with a thin strip of riverine bush along the edge of the river. Among the trees are the distinctive ilana palm (munganda), the wild date palm, sycomore fig and the umbrella-shaped poison-pod albizia - mubaba. Other common riverine trees are the waterberry, knob thorn, rain-tree or apple-leaf and the leadwood. Away from the river, the mopane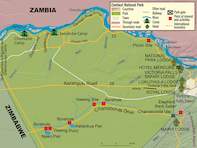 Map of Zambezi National Park
The Zambezi Boat Club
The Zambezi Boat Club has its clubhouse on the banks of the river in the park and is a favourite hang-out for the locals. It is one of the oldest organisations in the area, having held its first regatta in 1905. In 1910, the world sculling championship was held on the Zambezi.
An annual regatta on the river was re-instituted in 2005.
Brett Hilton-Barber and Lee R. Berger. Copyright © 2010 Prime Origins.