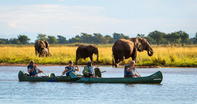 Mana Pools National Park is one of the most beautiful national parks in Zimbabwe, occupying 2,196 sq km (848 sq miles) of forest along the shores of the Zambezi River and doubled up as a World Heritage site.
The animal population of Mana Pools National Park includes hippo, elephant, rhino, buffalo and many types of antelope. Game viewing on foot is allowed and therefore walking and canoe safaris are highlighted activity. The birdlife along the river and in the bush is particularly prolific. It is possible to fish for tiger fish, bream and the giant vundu.
See Mana Pools National Park safaris in Zimbabwe.
This Zimbabwe camp in Mana Pools is built at the edge of the only waterhole for miles around. Game viewing is excellent from every angle of Kanga Camp...
more
An exclusive part of the Mana Pools National Park is experienced during a visit to Ruckomechi Camp and its views of the Zambezi River...
more