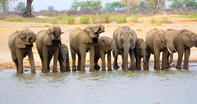 For big game Zimbabwe safaris, head to the grasslands of Hwange National Park (formally known as Wankie National Park) in Zimbabwe. Hwange National Park is renowned for its large herds of elephant and buffalo as well as rare species such as the African wild dog and sable antelope.
Other animal species such as lion, hyena, white rhino, giraffe and an astounding variety of bird life can be spotted whilst on safari. Hwange is Zimbabwe's largest park but is also one of the last of the great elephant sanctuaries in Africa, with over 40,000 living in the national park.
See Hwange National Park safaris in Zimbabwe below.