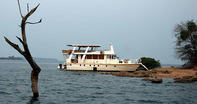 Kariba is a popular lakeside resort in the north of Zimbabwe built around a man-made dam on the Zambezi River. Along with a border, a river and the Victoria Falls, Zambia and Zimbabwe share the hydroelectric scheme made possible by the damming of Africa's fourth largest river in the 1950s.
By Laurianne Claase
It is a feat of both engineering and human endeavour that the 282km² (100 mi²) dam was built at all. Through temperatures that sometimes reached 48ºC (120°F), cataclysmic storms and lightning floods, the wall rose, 128m (420ft) high and half a mile long.While the building of the massive dam wall in the heart of virgin African bush was an extraordinary task, Operation Noah was another. Rupert Fothergill (after whom Fothergill Island in Matusadona National Park is named) and his team, tracked, captured and relocated up to five thousand animals, including lions and rhinos, rescuing them from the rising waters.Today, Kariba is a singular example of the co-existence of man and animal. It is a popular resort area and is also a commercial fishing center. At the same time, the dam attracts vast quantities of game; elephant, lion and buffalo among them. Game-viewing by water, be it by canoe or houseboat, provides the best of both worlds.But there's also angling, skiing, para-sailing, diving, an annual tiger-fishing tournament and a sailing regatta. The local hotels arrange the various daily excursions and walking, canoeing, and houseboat safaris are easily organized. Nightlife consists of drinking and dining and peaks at the Caribbea Bay Resort's casino.Although the village of Kariba Heights commands fine views of the lake, the straggly collection of shops and roadside crafts fail to live up to Kariba's reputation as a Zimbabwean Riviera. Of interest, however, is the stained-glass-and-stone St Barbara's Chapel, built as a memorial to the workers who died building the dam. There is also a monument to Operation Noah and viewing access to the wall itself.Within the Park, there is an extensive range of accommodation including live-aboard house-boats, a popular method of exploring the islands and inlets of Africa's third largest lake, and a floating hotel. A ferry connects the distant eastern and western ends of Lake Kariba and provides a leisurely overnight exploration of the length of the lake. Cars can be accommodated to allow for a continuation of the trip by road to Victoria Falls.But be warned, the Zambezi Valley in summer is extremely hot and humid. October is known locally as 'suicide month'. The winter months of June to August, however, are pleasantly warm.
Kuburi Wilderness Area:
Wild country, as the name suggests, broken by ragged hills and the Zambezi Gorge, this wilderness area lies on Kariba's eastern tip on the main road to Harare. A range of activities include game walks, drives and hikes to view the varied birdlife and, mostly, small game. But you might be lucky enough to see one of the elusive black rhino. There are camping and picnicking facilities. Safari Par Excellence in Harare runs its own bush camp in the area.Kariba and the middle Zambezi region shelter some of the country's most beautiful and inaccessible national parks: Closest to Kariba Heights is Matusadona on Kariba's southern shore followed by Chizarira on the Zambezi escarpment 90km (55 miles) inland from Binga on Kariba's western shore. Further downriver, towards Mozambique, Mana Pools National Park on the Middle Zambezi is one of the least developed National Parks in Southern Africa.
Matusadona National Park:
Matusadona National Park covers over 1,500km² (600mile²) of Kariba Dam's southern shoreline, between the Ume River and the Sanyati Gorge. The park's large concentration of elephant, buffalo, lion and antelope is a legacy of the Operation Noah animal removals before the dam was flooded and 'Matusadona' is a reference to the 'constant dripping of dung.'The park itself is not easy to get to by road, even in a 4x4 and is most easily reached by boat or light aircraft from Kariba town, 20km (12 miles) across the crocodile-infested water. Once there, two thirds of the park is only accessible on foot and game viewing is by guided walking safari or boat.Fishing is also a popular pursuit in these parts and the dam's most celebrated resident is the prize freshwater fighting fish named for the tiger. An annual fishing tournament is held in its honour.Accommodation options range from National Park campsites and self-catering chalets to luxury safari lodges. National Parks operate well-equipped campsites within the park, chalets and three exclusive use camps on the Ume river, the western boundary of the Park. These, as with all National Parks accommodation, must be booked through National Parks Central Bookings in Harare.Six luxury safari lodges dot Spurwing and Fothergill Islands where there is also an airstrip. Bumi Hills is the most luxurious of the six and their speciality is a pampered water wilderness safari on house boats. Matusadona is a great spot for guided game walks and its drowned forests, relics of the flooded dam, provide irresistible, sunset photo opportunities.
Chizarira National Park:
50 kilometers (31miles) from Kariba as the fish-eagle flies, but more than 200km(125miles) by bad road, Chizarira National Park is fully accessible only by four-wheel drive. There are no other facilities within the park other than a gravel airstrip and all necessities, including petrol, have to be brought in from the nearest supply store at Binga, 90km (55 miles) away. However, the lonely peaks, plateaus and riverine bush of this most beautiful of Zimbabwe's National Parks makes the effort more than worthwhile.The dry winter months of June to September is the best time to visit when the resident population of buffalo and antelope is swelled by migrating herds of elephant and the heat is past its worst. Basic National Parks accommodation is hired out on an exclusive use basis and must be pre-booked at National Parks in Harare.
Mana Pools National Park:
The Middle Zambezi, downstream from Kariba towards the Mozambique border, is a very different body of water from the rushing rapids of Victoria Falls. The river meanders over ancient floodplains leaving in its wake four large pools that give Mana Pools National Park its name.The 2,500km² (6,475mi²) of river, sandbanks and pools, forests of wild fig and the upside down baobab were saved from a proposed hydro-electric scheme in the middle Eighties which would have seen the flooding of what is today a World Heritage site.But the main attraction of Mana Pools National Park is walking unescorted through the African bush. Extensive dry season populations of elephant and buffalo roam the riverbanks and thorn-bush, and hippos and crocodiles are abundant year round. Rhino are somewhat more rare. Guided canoeing safaris are another game-viewing option and fishing is also popular.The park is only open to cars during the dry season months of May to October. Rainy season access is by boat or on foot to the National Park lodges near the pools which are open year-round but these must be pre-booked in Harare and a permit is required. Take sufficient fuel, food and water with you if camping. But, no oranges. Citrus fruit is confiscated at the gate to deter the elephants who have a fondness for it.
Copyright © Laurianne Claase. All rights reserved. Reproduction in whole or in part without the permission of the author is prohibited.