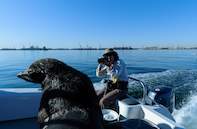 © Shem Compion
Walvis Bay, a coastal town in Namibia, is a hub of adventure. Activities include sandboarding down the famous dunes to searching for dolphins on Atlantic Ocean boat cruises. This is your guide to experiencing Walvis Bay.
Walvis Bay, a pretty coastal town in Namibia, offers wonderful dolphin cruises on the Atlantic Ocean. Guests can spot the pink Walvis Bay flamingos...
more
Walvis Bay in Namibia lies about 20 kilometers south of Swakopmund and is famous for its pink flamingos and Bird Island. At Sandwich Harbour...
more