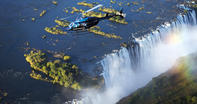 Victoria Falls Travel Guide for visitors travelling to Victoria Falls. As the sun rises and sets, the natural glory of these waterfalls transforms day after day, making a stay here a magical and unforgettable experience.
You'll get to experience the falls from the ground up with fun Victoria Falls activities like a canoe ride and a zipline through the rain forest. You'll follow in the footprints of some famous explorers and experience Victoria Falls wildlife in its natural habitat.
Your once-in-a-lifetime journey to one of the 7 natural wonders of the world starts here. Discover Victoria Falls.