Rhino Family at Stanley and Livingstone Safari Lodge in Victoria Falls.
Visitors to Victoria Falls can view Big Five wildlife, explore splendid national parks and enjoy superb bird watching on Victoria Falls safari tours.
Victoria Falls Wildlife Safaris
In the vicinity of Victoria Falls, there are actually three protected wildlife areas. The Victoria Falls and Zambezi National Parks encircle the falls and extend along the Zambezi River on the Zimbabwean side. The Victoria Falls Private Game Reserve is adjacent to this park on the boundary. The Mosi-oa-Tunya National Park is on the Zambian side of the falls and riverbank.

Victoria Falls is a major hub for safaris onward into other African countries. Many wildlife adventures can be combined to create the ultimate safari beginning or ending with an awe inspiring view of one of the Seven Wonders of the World. The towns of Victoria Falls and Livingstone are only 30 minutes apart by car, travelling over the historic suspension bridge which has border posts at each end. There are airports in both towns.
Victoria Falls Safari Tours
Victoria Falls National Park and Zambezi National Park, Zimbabwe
Covering a total area of 56 000 hectares, both parks lie on the southern bank of the
Zambezi River
which forms the border between Zimbabwe and Zambia. There are a number of picnic and fishing sites available. Activities include guided tours, walks, day and sunset cruises, game drives and adventure activities.
The Rainforest
- Here visitors can see unique flora and fauna. Bird species and small mammals may be spotted beneath the forest canopy whilst following the paths through the groves of Date Palm, Fig and Mahogany.
The Game Park
- Elephant, Lion, Buffalo, Leopard and White Rhino (the Big Five) can be seen in the park as well as herds of Eland, Sable Antelope, Zebra, Giraffe, Waterbuck and Kudu amongst other smaller species. The Zambezi River is known for its Bream and Tiger Fishing. There are two game drive routes, one accessed through the main gate and the other from just outside town on the Bulawayo road.
Victoria Falls Private Game Reserve, Zimbabwe
This 2 500 hectare reserve is a
10 minute drive from the falls
and Zambezi River located on the boundary of the Zambezi National Park, home to huge herds of Elephant and Buffalo. Exciting adventures and game viewing activities are offered in conjunction with a local tour operator, these include:
Day / night game drives and walking safaris, where visitors will discover a scenic lake, basalt plains and teak forests whilst learning about the flora and fauna. Night drives finish off with a spectacular bush dinner and guided bush walks follow ancient trails in the reserve.
Mosi-oa-Tunya National Park, Zambia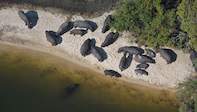 ©Eric Miller
This National Park includes the Victoria Falls and is located along the Upper Zambezi River extending for about 12km (7 miles) on the Zambian side above the falls. The park covers 6 600 hectares and forms a boundary with the town of Livingstone, it has two main sections:
The Falls
- this section can be accessed on foot and by road and includes rainforest with rare plants for this area, the Knife-edge Bridge, Boiling Pot, and Rainbow Falls, first and second gorge. The area just before the actual falls is an important location for Elephant to cross the Zambezi River. Hippo and Crocodile may be spotted along the riverbank. Klipspringers and clawless otters as well as many breeding raptor species (Peregrine Falcon, Taita Falcon and Black Eagle amongst others) can be seen from below the falls.
The Wildlife Park
- vervet monkeys and baboons are a common sight but this section is also home to Zebra, Giraffe, Buffalo, Rhino (a rare sight in Zambia), Sable, Eland, Impala, Warthog, a variety of birds and other smaller animals. There are no predators in the park and so the resident animals are quite relaxed which is great from a game viewing and photographic point of view.
Safari Combinations
Victoria Falls and Livingstone combine beautifully with several other wildlife destinations, the closest being
Chobe National Park in Botswana
, which is a short flight away or a 90 minute drive. There are also other magnificent possibilities to consider in Zambia, namely the Lower Zambezi, Lochinvar, Kafue and South Luangwa National Parks. In Zimbabwe there are Hwange, Matusadona and Mana Pools National Parks.