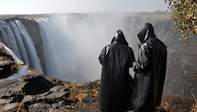 © Eric Miller
Apart from being a natural wonder of the world and a mighty sight to behold, Victoria Falls also offers a wealth of activities and exciting things to do.
One of the most incredible destinations on earth is Victoria Falls, where adventure awaits at every turn!
Nature enthusiasts will rejoice in the breathtaking views from both Zambia and Zimbabwe, while adrenaline junkies can satisfy their thrill-seeking desires with a host of thrilling Victoria Falls activities.
Try out bungee jumping off Livingstone Island for an unforgettable experience, or brave the Devil's Pool right at the edge of the falls! For a more relaxed day, take a leisurely walk along The Boiling Pot and cruise downriver on a sunset Zambezi River cruise.
With such a wide variety of things to do, you're certain to be tempted by something new each time you visit Victoria Falls.
Our Victoria Falls Specialists can arrange any of these Victoria Falls activities to be included in your holiday itinerary.