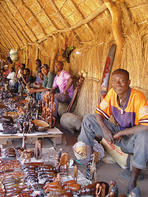 Craft shopping in Livingstone, Victoria Falls. Photo: Images of Africa
Chief Makuni's Village

©Lee Berger
Chief Makuni invites visitors to his village, home to the Leya people. This is a unique opportunity to see how the local people of Victoria Falls live in a working village, not one built for tourists. Approximately 6000 people live here and a visit is a fascinating insight into their lifestyle.
A member of the village shows visitors around and they can see how traditional huts are built and decorated, take a look inside, meet the residents and see the locals at work.
©Lee Berger
Tours take approximately 2 hours (including transfers).
Curios made in the village are for sale so visitors should take some local currency
Transfers to / from the Waterfront are included in the price.
Read more about Mukini Village
Tour of Livingstone

©Makuni Village craft stall
The town of Livingstone was moved from Old Drift in 1905 when it was decided that a location on Constitution Hill would be healthier than one on the river. The town was carefully planned with wide streets, avenues of beautiful trees , buildings with high ceilings and mosquito netted verandas.
The Livingstone Museum houses the most comprehensive collection of memorabilia of David Livingstone and the Railway Museum has a collection of locomotives. Maramba market is a bustling colourful market where the local Zambians come to shop.
The market sells everything from fruit and vegetables to second hand clothes and bright Chitenge (local fabric). Curios are available from another market situated in a small park in the centre of town.
Length of tour depends on clients request, between 1 and 3 hours.
A knowledgeable guide will accompany the tour.
Transfers to and from the Waterfront are included in the price.
Brett Hilton-Barber and Lee R. Berger. Copyright © 2010 Prime Origins.
Contact Us to book a fascinating Victoria Falls cultural tour