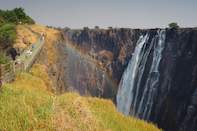 © Shem Compion
Vic Falls Mountain Bike Challenge now known as the Zambezi Cycle Challenge - Both speedy competitors and social mountain bike enthusiasts will enjoy this superb challenge in Victoria Falls, Zimbabwe. Unique routes through wildlife zones and exciting terrain will provide an unforgettable adventure.
What better way to achieve your mountain biking goals than on this 3 day challenge in one of the most sought after holiday destinations in Africa? You can take your family and friends on a well deserved getaway, knowing that they too will have the time of their lives.
Make no mistake though, this is a tough race and your skills will be tested! You'll be able to rest and recover in the comfort of a good hotel at night but each day brings a new set of challenges to keep you on your toes.
About the Race
The Zambezi Cycle Challenge takes place between 7 - 9 July 2023. This is a top event that is backed up and marshalled to international standards. This race is brought to you by the same people who organise the Victoria Falls Marathon and the Kilimanjaro Marathon.
The minimum age for participation is 18 years. Categories offered are Male (Teams of Two), Female (Teams of Two) and Mixed (Male and Female combination in Teams of Two). Prizes will be awarded in each category. Individual competitors may compete and will be noted in the published results but they are not eligible for prizes. No seconding is permitted on this race. Participants can also opt to do the first day only.
The Experience
The route comprises of some tarred sections around the overnight hotel accommodation and single track, rural roads which are mostly off the public grid. A number of sections offer truly scenic surroundings in virgin territory. There will be regular refreshment stations en route and sweep cars and bikes to make sure everything goes to plan.
The entire race takes place over about 250km (155 miles). Each day you will set off on a different route, departing from and returning to the same base hotel. Breakfast, refreshments on the ride and dinner are included per day for participants. Prizes will be handed out at the banquet on the last night.
There will be instructive talks and guidelines given in preparation for cycling through wildlife zones, also rangers will provide look out services in certain areas. On this 3 day race, the 2nd day will be the fastest as there is very little elevation on the route for that particular day. Highlights along the routes include the Upper Zambezi River, private land concessions and game reserves plus views from the top of the Batoka Gorge.
Visit https://www.vicfallsmtbchallenge.com for more info
Accommodation and Activities
The Adventure Lodge offers comfortable accommodation with en-suite rooms and a guest lounge, dining and bar facilities with satellite TV and a swimming pool. There is also a massage therapist available. The lodge is within walking distance of town. Upgrades to other hotels in the area can be arranged including:
Victoria Falls offers many enjoyable attractions and activities - it's a great holiday destination. You can go sightseeing, shopping, golfing, game viewing and touring. You could also visit the rain forest to view the falls or choose from a huge range of adventurous activities such as bungi jumping, white-water rafting, jet boating and gorge swinging.