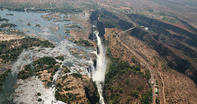 The Victoria Falls have been billed as the greatest falling curtain of water on the planet, making it one of the seven natural wonders of the world. Photo: Brett Hilton-Barber
Although it is neither the highest nor widest waterfall, it has, at its highest water flows, approximately as much water coming over its edge as any of the greatest falls in the world, and it is twice the height of the famous Niagara Falls in the United States.
Its lower mean annual water flow compared to its two most famous rivals - the Niagara Falls and Iguazu Falls - is only due to the reduced water flow during the long, dry season of southern Africa.

Half the water approaching Niagara is diverted for hydroelectric power. Iguazu has two drops: height given for biggest drop and total height.
Ten falls have greater or equal flow rates, but are not as high as Iguazu and Victoria Falls.
Elevation: 1062 m (3 848 feet)
Latitude: 18 degrees 06'S
Longitude: 25 degrees 51' E
Time Zone: GMT + 2 hours

Brett Hilton-Barber and Lee R. Berger.
Copyright © 2010 Prime Origins.
More Flora and Geology of Victoria Falls