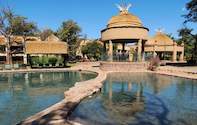 The Kingdom Hotel is only a 5 minute walk from the largest waterfall in the world, Victoria Falls.
One of the closest hotels to Victoria Falls
Indulge in luxury accommodation
There are conference facilities with packages
Accommodation is in one of the 294 luxurious rooms
The Kingdom at Victoria Falls is a breezy 5 minute walk from the renowned Victoria Falls, situated in Zimbabwe. This Zimbabwe hotel boasts stunning architecture inspired by the ancient Kingdom of Munhumutapa, with towering pillars and many water features.
More than just a hotel, The Kingdom has 3 restaurants, 4 pools, a safari spa, a man-made lake, and a casino. Accommodation at this Victoria Falls hotel is in one of 294 suites that cater for an array of guests including family, couples, groups and singles.
Witnessing the Victoria Falls is an amazing experience and The Kingdom offers the perfect place to stay for your family vacation. The Victoria Falls are, by some measures, the largest waterfall in the world, as well as being among the most unusual in form, and having arguably the most diverse and easily seen wildlife of any major waterfall site.