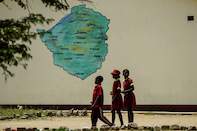 © Jacques Marais
Many visitors to the popular holiday destination of Victoria Falls in Zimbabwe want to know how they can help the community and truly make a difference. Here are a number of ways in which you can show your support for a worthy cause.
Any tourist will know the feeling of helplessness when faced with the sight of poverty and desperate circumstances in cities and holiday venues around the world. Victoria Falls is no different. It's a beautiful place packed with incredible sights and experiences, yet when you look deeper there are community needs that cannot be overlooked.
Your tourism dollars and donations can go a long way to reaching the people who need it most, if the funds are channelled correctly. You can pack clothing donations and some useful goods like books, pens and paper into your luggage for when you arrive, but a monetary contribution gives the charity of your choice power to affect change in profound ways but also survive from day to day. Visit these charities and see for yourself all the good work that they do.
Charities in the Victoria Falls Area
Rose of Charity
When children are abandoned, orphaned and living with HIV / Aids or a disability they often fall through the cracks of society and enter a cycle of deprivation and neglect, many take to the streets to survive. This is where Rose of Charity comes in. It's a small organisation making a big difference in the lives of around 70 children in the Chinotimba Township of Victoria Falls, Zimbabwe.
The children are provided with a caring and secure environment, food, clothing, medical care and education. Innovative projects are always on the go to teach the children skills such as arts and crafts and gardening. The charity operates from tiny rented premises and hopes to be able to secure more accommodation plus facilities such as a room for a library.
1204 Chinotimba Town Ship
Victoria Falls
Zimbabwe
Tel: +263 13 46123
Mobile: +263 774 785 464
Web: www.roseofcharity.net
The Anglican Street Children's Programme, Zambia
Victoria Falls and the Zambezi River form the border between Zimbabwe and Zambia - there are lodges and tourist facilities on both sides. This project is working to give the under-privileged children of Zambia an education. The children are supported in homes and communities throughout the country including Livingstone.
Street kids and children forced into child labour in order to help support themselves or their families and guardians are given the opportunity to break this cycle and learn much needed skills. The extended families and guardians who have often been devastated by HIV / Aids are also given assistance to enable them to earn an income without the need for their children to be involved in child labour.
Tel: +260 977539067
Web: www.streetkids-zambia.com
Victoria Falls Anti-Poaching Unit
Conserving wildlife and its natural habitat is what this non-profit organisation is all about. Victoria Falls in Zimbabwe is a hotspot for both human and wildlife interaction and the unit aims to keep the balance through active patrols, education in the local community, finding viable employment for ex-poachers and the rescue and rehabilitation of wildlife that has been injured as a result of human interference.
Poaching is an alarming problem on a number of levels in the local area; environmental poaching includes the removal of the natural habitat such as plants and soil, as well as trees which are used for firewood and the making of curios; subsistence poaching is where wildlife is killed and sold in the lucrative bush meat trade; commercial poaching involves killing animals for their skins, horns, ivory and body parts and then selling the products for profit.
Tel: + 263 772 177 324
Web: https://vfapu.com