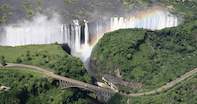 Our Best of Victoria Falls and Chobe Safari Package takes you on a journey from the natural wonder of the Victoria Falls to the wildlife abundant Chobe. Enjoy a traditional boma dinner and feel the spray of the waterfall in Victoria Falls. Cruise along the Zambezi and Chobe River and embark on 4x4 game drives in Chobe National Park.
Victoria Falls and Chobe Safari Experience
On this 5-day Best of Victoria Falls and Chobe Safari Package, you will start out exploring the wonders of the rumbling falls, which always makes the top of the travel list for those that make their way through Southern Africa. Go on a guided tour of the Falls where your guide will explain the history and legends surrounding the magnificent Victoria Falls. Listen to the thundering water as you feel the mist of the spray around you. Experience the local culture while enjoying an ethnic dinner and tribal dance.
Onwards to the Chobe in Botswana, you will experience some incredible variations in wildlife. During the winter months, you can see huge herds gather on the Chobe floodplain. These are best appreciated on thrilling 4x4 game drives as well as safari boat cruises along the Chobe River. Cruise up the river in style and sip on a cooling drink while looking out for animals coming to the river to drink. Watch the sun drop below the horizon as a ball of fire. It really doesn't get better than this!
Victoria Falls and Chobe Highlights
You'll get the best of both Victoria Falls with a Botswana Chobe National Park safari
Cruise along the Chobe and the mighty Zambezi River on boat safaris
Visit the thundering Victoria Falls waterfalls on a guided Victoria Falls Rainforest tour
Embark on an open safari vehicle 4x4 game drives searching for free-roaming African wildlife
Experience large herds of elephants and aquatic wildlife such as hippo and crocodile
Enjoy a traditional boma dinner and drum performance in Victoria Falls
Complimentary shuttle from your lodge to Victoria Falls town centre
Optional "Flight of Angels" helicopter flight over the Victoria Falls
Day 1: Travel to Victoria Falls in Zimbabwe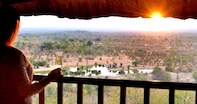 On the first day of your Best of Victoria Falls and Chobe safari package, you can fly in from Johannesburg or Cape Town directly to Victoria Falls in Zimbabwe. After a private road transfer to Victoria Falls Safari Lodge, you'll have some time to settle in and explore your surroundings.
Just wait till you see the waterhole. Here, you can view a variety of wildlife including elephant, buffalo, kudu, waterbuck, zebra, impala as well as a large number of bird species. It's almost as if the animals come straight to you!
The highlight of your first day will definitely be the sunset cruise along the Zambezi River with access to the luxury deck and your choice of sundowner as you watch the natural show, as the light fades over the untouched landscape.
Day 2: Smoke that Thunders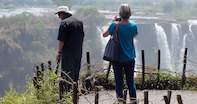 Stock up on a good breakfast just before you embark on your guided tour of Victoria Falls. First stop, the falls! This massive sheet of falling water and the spray that it produces is mesmerizing, to say the least. One of the largest waterfalls in the world, you will be taken through its rich rainforest to learn about its flora and fauna. Listen to the thundering water as you feel the mist of the spray around you.

Go on a scenic walk through the tropical rainforest and stop at the "Big tree" a giant Baobab, ideal for some memorable photographs. Next up is a visit to the Vulture Culture centre where you can learn more about these fascinating and often overlooked scavenger birds of prey.

In the afternoon, put your feet up and relax. Or, you can make use of the hourly courtesy shuttle to Victoria Falls city centre. Perhaps wander down to the local craft market where you can bargain for the iconic local soapstone carvings, masks, jewellery and Batik fabric.

In the evening you will be picked up and taken to an ethnic restaurant for a traditional dinner in a Boma. Live traditional entertainment will be provided creating a memorable cultural experience. Maybe you will even be brave enough to try a Mopane Worm.
Day 3: Cross the border into Botswana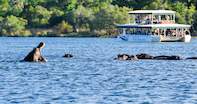 After breakfast, say goodbye to Zimbabwe as you catch your private road transfer to the Chobe National Park in Botswana. After the border crossing, enjoy a scenic drive through the Chobe National Park. En-route, keep a lookout for buffalo, giraffes and elephant as well as many other types of wildlife.

You will be spending two nights at Chobe Marina which offers charming hospitality, beautiful accommodation and breathtaking river views. Tuck into a tasty lunch followed with some time to relax and take in the breathtaking views of the Chobe River.
In the late afternoon cruise down Chobe River with a drink in hand and watch the African sunset. The river is filled with big pods of hippos and some of the biggest crocodiles in Africa.
Day 4: Game drives in Chobe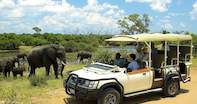 Expect a massive dose of adventure. From safari cruises along the Chobe River to 4x4 game drives scouting for elephants (of which there are plenty), buffalos, lions, hyena and even African wild dog if you are lucky.
The birdlife is also excellent, from ubiquitous fish eagles to a myriad of herons and waders. Be sure to keep your camera fully charged throughout your stay, as there is always something to see around every corner. The Chobe truly is a mecca for wildlife-lovers.
There will also be some time to relax, perhaps have a refreshing dip in the swimming pool or unwind on the game viewing deck with a good book.
Day 5: One last sunrise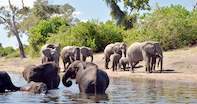 After a good night's sleep, you will awake to a vibrant, fresh breakfast with a freshly brewed pot of hot coffee. Enjoy your last breakfast on the deck as you take in the scenery surrounding the marina one last time.
You will be taken back to Victoria Falls in Zimbabwe, where you can catch your flight out. If you feel 5 days is not quite long enough, you can easily combine this Best of Victoria Falls and Chobe Safari Package with another experience. Perhaps a few days in the Okavango Delta?
Included
Scheduled round trip flights between Johannesburg and Victoria Falls
Road transfer from the airport to your hotel in Victoria Falls
Round trip road transfers between Victoria Falls and Chobe
2 nights' accommodation at a lodge in Victoria Falls overlooking the Zambezi National Park
2 nights' accommodation on the banks of the Chobe River
Breakfast, lunch and dinner
Guided tour of the Victoria Falls
Cultural experience in Victoria Falls at the Boma with dinner and drum show
Sunset cruise on the Zambezi River (luxury deck)
Hourly courtesy shuttle to Victoria Falls Rainforest and town centre
Game drives into Chobe National Park in an open safari vehicle with experienced guide
Safari boat cruise along the Chobe River
Chobe National Park fees
Not Included
Rainforest and National Park entry fee in Victoria Falls (approx. USD 40 per person)
Optional activities, drinks and all other optional extras to be settled direct