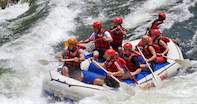 This 3-day Vic Falls White Water Rafting Adventure Package is ideal for thrill seekers who wish to enjoy a challenging White Water rafting trip and take in the splendour of the mighty Victoria Falls.
Vic Falls White Water Rafting Adventure
Our Zambezi River Vic Falls White Water Rafting Adventure Package offers a challenging experience for thrill seekers. Experience one of the best White Water rafting trips in the world. Discover your inner strength as you travel down the powerful Zambezi River. The gorge is over 100 meters deep at the Falls and increases to over 200 meters by the end of a Victoria Falls White Water Rafting trip.
Go on an (optional) tour of the mighty Victoria Falls and photograph it from the best viewpoints. Walk through the forest created by the spray and watch the antics of the Vervet Monkeys. Alternatively, set out on a tranquil sunset cruise on the large Zambezi River. The rapids on the Zambezi River are officially defined as "Grade 5" by the British Canoe Union. You should be reasonably fit for this activity, as there is a steep walk into & out of the Batoka Gorge as well as the white water rafting activity itself.
An "oar boat" is controlled and manoeuvred by the guide using "12 foot-long" oars from the middle of the raft. You are seated in the front and rear of the raft and hold on to the safety line around the perimeter of the raft. A "paddle boat" requires the passengers to actively assist the guide in manoeuvring the raft through the rapids and the calm stretches, they are seated around the perimeter of the boat and all paddle but do not hold onto the safety line.
Need to Know
You should be reasonably fit for this activity
Zambezi River rapids are graded "Grade 5" by the British Canoe Union
Low Water - White Water Rafting: Rapids #1 - #19 from 10 August - 24 December
High Water - White Water Rafting: Rapids #11 - #23 from 25 December - 09 August
The duration is between 6 - 7 hours
Choose between an "oar boat" and "paddle boat"
Enjoy lunch at the top of a gorge
Walk in and out of the gorge is steep and rocky, approximately 750 feet
Look forward to a cold beer or soft drink waiting for you on top of the gorge
Wear sturdy shoes, sunscreen, swimsuit and shorts/cycling shorts but nothing that water will suck away
Wetsuits will be provided in the winter months
Extra nights and activites can be added to this package
Day 1: Welcome to Victoria Falls
On the first morning of your Zambezi River Vic Falls White Water Rafting Adventure, you will catch a flight from Johannesburg to Victoria Falls in Zimbabwe. Once you have completed immigration, you will be met by a driver and transported to your hotel where you will spend the next 2 nights.
After check-in, you have some time to settle into your room. You will have a choice of activities in the afternoon, we recommend to go on a tour of the Victoria Falls, browse the local markets and enjoy a sunset cruise on the Zambezi River.
Day 2: White Water Rafting on the Zambezi River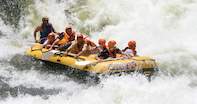 Today after breakfast you will go on your Vic Falls White Water Rafting Adventure. You will be picked up and driven to your starting point, where you will be given a briefing.
Afterwards, you will travel to the gorge where you will receive safety equipment (helmet and life jacket). You will then hike down into the gorge. Once at the river you will get training and do some practice sessions before setting out.
The trip passes through various rapids, which are grade 5 rapids where you will experience white-water, medium waves, maybe rocks, and sharp manoeuvres may be needed. You will then have to walk back out the gorge, which is steep and should take about 30 minutes for someone of average fitness.
Once you have reached the departure point back in town you will then enjoy a hard-earned lunch and cool drink. You can purchase video and photographic coverage of your trip. Then you will travel back to your lodge and spend the rest of the day relaxing.
Day 3: Why not stay longer ?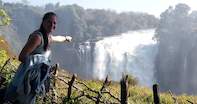 On the final morning of your White Water Rafting Adventure Package, you will enjoy one last breakfast before packing up and being driven back to the Victoria Falls Airport for your flight back to Johannesburg.
There is so much to see and do and in Victoria Falls. Extending your stay is easily done. You really are spoilt for choice with adventure activities such as trekking, kayaking, zip wiring, abseiling, horseback riding, bungee jumping and helicopter rides. Let us know and we will gladly customize your Vic Falls Adventure Package.
When you select this package, we have added a value for money options for 4 nights that includes an adventure pass, where you can select 2 other adventure activities. You can select the activities once you are in Vic Falls.
Included
Scheduled return flight from Johannesburg to Victoria Falls
Return road transfers from the airport to your hotel in Victoria Falls
2 nights' accommodation at a hotel in Victoria Falls that is within walking distance to most attractions
Breakfast on day 2 and 3
Lunch on day 2
Guided 6-7 hour White Water Rafting activity
Not Included
Optional activities, drinks and meals not specified
Entrance fees and all other extras to be settled direct