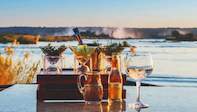 Royal Livingstone Hotel restaurant has spectacular views of Victoria Falls.
There are many good places to eat on both the Zimbabwean and Zambian sides of Victoria Falls. Almost every hotel has a good restaurant, and some places come with an added experience such as drumming or traditional dancing. The Victoria Falls restaurants listed below are just some of our favourites.
Restaurants in Victoria Falls Town

The Boma - Place of Eating
The Boma is a most intriguing culinary experience, with just about every traditional Zimbabwean dish on offer - as well as international cuisine. It is as much an experience as a place to eat...

With drumming displays and dancing to entertain the diners, and set in a large wooden kraal near the Victoria Falls Safari Lodge, The Boma is highly recommended for a night out - particularly for first-time visitors to Africa.

Mama Africa's Eating House
Contemporary township-style restaurant behind the Trading Post with a variety of African dishes and a resident jazz band. Booking is recommended.
The River Café
Daytime meeting place with satellite TV; good for breakfasts and lunch.
The Jungle Junction
Garden restaurant with a renowned buffet.
The Kingdom
Tourist-orientated experience with a food court serving conventional fare, from pizzas to burgers.
Croc Rock
A favourite with the locals for playing pool and drinking late into the night.
Makuwa Kuwa
The Makuwa Kuwa restaurant at Victoria Falls Safari Lodge has twice been selected Zimbabwe's Best De Luxe Restaurant of the Year (2006 and 2007). Overlooking a water hole in the Zambezi National Park, it exudes a sophisticated African ambience.
It has an imaginative menu, which includes seared ostrich fillets with corn bread, Zambezi River bream grilled with ginger and wok-fried crocodile with vegetable strips and garlic. The Restaurant is named after one of the legendary Royal Drums
The Cattleman
Good steakhouse at the back of the Phumula Centre.
The Wimpy Bar
Landmark eatery in the middle of town; franchised fare; reasonably priced and popular with backpackers.
Wild Thing
Nightclub that offers light meals.
Victoria Falls Hotel
Colonial-style restaurant famed for its sophisticated Livingstone Restaurant, where you can enjoy a fine meal before retiring to the Bulawayo Room for brandy and cigars; also known for its high teas served on the Stanley Terrace.
Livingstone and Surrounds

Laughing Dragon
Authentic Chinese restaurant behind the Livingstone Museum; open for lunch and dinner.
Ocean Basket
Franchised seafood restaurant with a great menu in a spacious old house.

Ngolide Lodge Golden Leaf Indian Restaurant Small Indian restaurant with a genuine Mumbai chef; serves the best curry in the Victoria Falls area; there is limited seating, so booking is essential.
African Visions
Vegetarian restaurant and coffee shop.
Funky Munky Pizza Bistro
Casual restaurant with pizzas and standard fare.
Frite Pub and Grill
Very central; reasonable food; with visiting bands at weekends.
Zig Zag Coffee House and Craft Market
Interesting setting in a renovated textile warehouse; spacious area with outside seating in an old fruit orchard; interesting food and a popular lunchtime hang-out; open for Friday night dinner.
Hippos
Backpackers restaurant and bar behind Fawlty Towers, a favourite post-river-rafting drinking hole where you can unwind and relate your experiences.
Insomnia Café
Reasonably cheap food, informal atmosphere with pool table and satellite TV; on Friday and Saturday nights there is good music and dancing.
Fez Bar
Expat hang-out and bar.

The Royal Livingstone Hotel
Gracious and elegant dining with excellent service and arguably the best food in Livingstone.

Zambezi Sun
Restaurants offering buffet and à la carte menus; also occasional live bands. A Grillhouse and sports bar in the same complex, offers good steaks and burgers.

Zambezi Waterfront

Fantastic riverside setting with good food and friendly service.
Floyd on the Falls
Internationally renowned chef Keith Floyd dropped in to Victoria Falls in 1995 to research his book and TV series Floyd on Africa. He declared that one of the best meals he'd had in Africa was "a plate of stewed beef, greens and mealies" that he bought for Z$7.00 in Victoria Falls township near the Chinotimba Beer Hall. He was more reserved about the so-called "foaming pink" Chikubu beer being sold by the truckload.
Floyd was impressed by how Zambian villagers made cooking oil from grinding up mongongo nuts, took a fancy to the muchenje fruit (the "African biscuit"), and extolled the virtures of sadza (mealie-meal porridge), the consistency varying according to regional tastes.
His TV crew filmed him at Victoria Falls Game Reserve building a ground oven and concocting his hunter's stew of kudu and warthog chunks in a "marmalade of onions and tomatoes", bravely flavoured by Zimbabwe red wine. He devised a "Tongabezi chicken curry" with sweet potato and butternut, which he cooked at the Zambian lodge.
Floyd was last seen tackling the tiger fish with garlic and spring greens before jetting off to his next exotic culinary location.