Victoria Falls is situated in a summer rainfall region in the southern African tropical belt. Instead of differentiating the climate according to the conventional spring/summer/autumn/winter divide, locals consider there to be two distinct climates - the dry season and the wet season.Victorai Fall in August.
The dry season begins in May and extends through autumn and winter into early summer in October. The early part of the dry season is a temperate time with daytime temperatures in the early 20°C range and the mercury often falling to single digit figures at night.
Occasionally, it can be very chilly during the evening and early morning. Temperatures start rising during September with the onset of spring and October can be a punishing month, with temperatures often soaring above the 40°C mark.

Victoria Falls in April
Generally, the rains begin during the course of November, typically presaged by spectacular displays of lightning in the night skies.
By December, the wet season has usually set in with hot daytime temperatures, which are tempered by torrential downpours that generally take place during the late afternoon.
At night, temperatures are an average 18°C and, during the day, the temperature can rise as high as the upper 30°C mark. There have even been times when the mercury has risen to an astonishing 50°C.
Visiting the Victoria Falls during the wet and dry seasons is a markedly different experience. In early summer, the water level in the Zambezi is at its lowest, and the spray from the Falls is least dense, allowing for more visibility and better photographic conditions.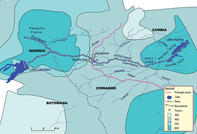 During late summer, when the Zambezi is pumping, the spray from the Falls is intense and any visitor to the rainforest can expect to be soaked.

Getting good photographs can be tricky from both a visibility point of view as well as a technical one (dealing with wet cameras).
Brett Hilton-Barber and Lee R. Berger. Copyright © 2010 Prime Origins.
Planning a trip to Victoria Falls and wondering when is the best time to visit Victoria Falls? Find out all about the different seasons and what makes each one special....
more
Victoria Falls Seasonal Weather Calendar. If you are into watersport activities, then the best time to be at Vic Falls is just after the rainy season when the Zambezi River is at its highest....
more