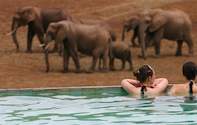 Mfuwe Lodge is situated in South Luangwa National Park, hidden among huge Ebony and fig trees on the banks of a beautiful lagoon, a 45 minutes' drive from Mfuwe International Airport.
Fly-In
Mfuwe Airport recently achieved international status and various airlines were looking at scheduled flights from abroad. Domestic flights operate about 10 times a week in peak season (June-Oct) from Lusaka.
Charter planes from outside the country can now fly direct without clearing customs at Lusaka and there are a number of charter companies in Zambia, that can fly to and from Zambia's top destinations. All lodges do transfers to and from the airport. Proflight has scheduled flights to Mfuwe.
While you await your flight or before you head off to the bush, don't miss a visit to Jake's Moondog Cafe just outside the airport. An excellent bush bar with ice cold beers and great food. Next door is the famous Magenge Crafts Shop with an impressive collection of fine arts and crafts made by the local artists and craftsmen in the valley.
By road
Driving, one can approach from 3 sides. The usual route is from Chipata. This is a good road if a little corrugated and the 123km drive takes about 2 hours to Mfuwe, just outside the Park. If travelling in a robust 4x4 from Lusaka, it is possible to take a short cut from the Great East Road at Petauke, up alongside the Luangwa River to Mfuwe. Only to be attempted well into the dry season.
The Northern access is from Mpika on the Great North Road or Lundazi, near Zambia's eastern border with Malawi. Just below Mpika, there is a road running down the Munyamadzi Corridor between North and South Luangwa Parks. It is passable but only in 4WD and preferably with 2 vehicles as help is a long way away. The mountain pass down the escarpment is quite formidable, very rocky and bumpy but the view over this, the tail end of the Great Rift Valley, is quite spectacular.
When to Go
Seasonal changes are very pronounced in Luangwa. The dry season begins in April and intensifies through to October, the hottest month when game concentrations are at their height. Warm sunny days and chilly nights typify the dry winter months of May to August.
The rains begin in November as the leaves turn green, and the dry bleak terrain becomes a lush jungle. The rainy season lasts up until the end of March and the migrant birds arrive in droves. Each lodge stays open for as long as access is possible, depending on its location in the area.