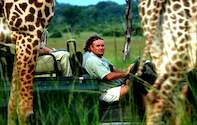 The concentration of game around the Luangwa River and its ox bow lagoons is among the most intense in Africa. The park is host to a wide variety of wildlife, birds and vegetation. Some of them come right up to the lodge.
Walking Safaris
The now famous Zambia walking safari originated in South Luangwa National Park and is still one of the finest ways to experience this pristine wilderness first hand. With an expert guide, track an abundace of wildlife and learn about the diverse vegetation in South Luangwa.
Game Drives
Game drives and walks are conducted by an experienced and knowledgeable team of guides. The park has 14 different Antelope species, most of which are easily seen on morning and afternoon drives during this Zambia safari. Night drives are fascinating in the Luangwa. Not only for the chance of seeing a Leopard, but for the many interesting animals that only come to life at night. Genets, Civets, Servals, Hyenas, and Bushbabies as well as Owls, Nightjars, the foraging Hippos, Honey Badgers and Lion.
Birdwatching
Birdwatching is superb in the Luangwa Valley during your Zambia tour. Near the end of the dry season, when the river and oxbow lagoons begin to recede, hundreds of large waterbirds can be seen wading through the shallows. Of the most beautiful are the elegant crowned cranes, with their golden tufts congregating in large flocks at the salt pans. With about 400 of Zambia's 732 species of birds appearing in the Valley, including 39 birds of prey and 47 migrant species, there is plenty for the birdwatcher to spot, whatever the season.
Bush Dining
Dinner is sometimes served by lamplight on the poolside deck overlooking the lagoon. Guests set off at first light or in the late afternoon when the wildlife is most active.
Leisure
For quieter moments the nature conservation library with its own deck shaded with giant Ebony trees, offers a unique collection of antiquarian books and modern reference material.
Spa and Wellness
Guests staying at the luxurious Mfuwe Lodge can now indulge their senses with a wide range of treatments available at the new Bush Spa. The Bush spa is situated adjacent to the Mfuwe Lodge, making it ideal for guests to visit after a safari or just to relax. The ideal location of the spa allows guests beautiful views of the main lagoon while enjoying their treatments. The spa welcomes couples and individuals.