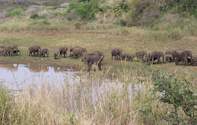 Lidiko Lodge is centrally situated in the village of St Lucia, KwaZulu Natal, gateway to iSimangaliso Wetland Park, a UNESCO World Heritage Site.
Why We Love it and You Will Too
Lidiko Lodge is within walking distance to St Lucia, where you can discover all kinds of local restaurants, charming cafes and nifty little boutiques.
During breakfast, served in the open plan dining terrace, keep an eye out for families of mongoose trekking across the lawn, as well as playful troupes of vervet monkeys bounding through the palm trees.
With its location close to iSimangaliso Wetland Park, this lovely little lodge is an ideal base from which to explore the surrounding game parks and beaches.
The rooms are private, spacious, and well-equipped, overlooking the jewel-blue swimming pool and leafy garden. Family units are available, too.
The atmosphere is relaxed and laid back, so if you're simply looking for a place to put your feet up for a few days, this is it.
Your Lidiko Lodge Experience
The setting of Lidiko Lodge is optimal, not just because it is nestled right in the dorpie (little town) of St Lucia, but because it is located very close to iSimangaliso Wetland Park.
Previously known as the Greater St Lucia Wetland Park, it stands as a UNESCO World Heritage Site that lures in nature-lovers from near and far. It is particularly well-known for its resident hippos and crocs, as well as its abundant birdlife (350 species) best viewed during guided boat excursions along its estuaries.
After an adventurous day exploring this ecological paradise, Lidiko Lodge is just the kind of place you will want to return home too. In fact, it's the staff who will make you want to return. Always on hand to offer a genuine smile, they are just the right people to speak to if you need an insider's recommendation on where to dine. Within a few minutes' walk from the lodge, you'll quickly find yourself on the high street of St Lucia, which is packed to the gunnels with a variety of eateries. If you're out at night, be vigilant of street-savvy hippos, often seen bumbling along the sidewalks.
If you're wanting to catch a break from travelling through KwaZulu Natal, Lidiko is perfectly set up for that. There are more than enough nooks to sit with a good book or to sneakily catch up on some emails. The rooms are set up to maintain absolute privacy and are furnished with all the amenities you could need to make for a comfortable stay. Puffy linen, check. Extra blankets, check.