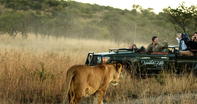 Located on acres 22 000 hectares of land in the beautiful province of KwaZulu Natal, Nambiti Private Game Reserve is easily accessible by major cities such as Durban, Ladysmith, Pretoria and Johannesburg.
This exclusive game reserve boasts the Big 5 and over 40 other wildlife species. This makes Nambiti Private Game Reserve a fantastic choice for an authentic African KwaZulu-Natal safari in South Africa.
Nambiti Private Game Reserve is located in a malaria-free area, meaning it is safe for the whole family. The reserve is devoted to good conservation practices and maintaining a natural and healthy environment for its wildlife.
As it is located in KwaZulu Natal, Nambiti Private Game Reserve also encompasses a variety of biodiverse environments such as grasslands, bushveld and wetlands. This has led to its success in nurturing a large variety of flora and fauna. Its prime location also allows you to explore the region's other major attractions such as the Drakensberg Mountain and the historic Battlefields.
Stay at Nambiti Game Reserve safari lodges in KwaZulu-Natal.