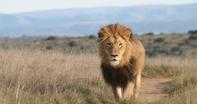 The Eastern Cape region of South Africa offers unique and luxurious safari lodges located on private game reserves and national parks along the Garden Route. This varied selection of Eastern Cape safari lodges offers wonderful opportunities for family safaris or exclusive private safaris as well as honeymoon safaris and weddings.
From the award-winning Shamwari and Amakhala game reserves to the world famous Addo Elephant National Park lodges, where Elephant interactions can be enjoyed, the Eastern Cape offers exactly what you want.
Top Eastern Cape Safari Destinations
Addo Elephant Park
The malaria-free Addo Elephant National Park, rich in history, plays host to a range or magnificent African wildlife. This finely tuned eco-system covers 14,000 hectares and is home to over 300 elephants making it the most concentrated elephant reserve in Africa.
The park was proclaimed in 1931 to preserve the last survivors of elephant herds and is now the only wildlife park that is home to the Big 7 which includes Elephant, Rhino, Lion, Leopard, Great White Shark and Southern Right Whale making for abundant game viewing on an Addo Elephant Safari.
The Big Five Family Safari
The malaria-free Eastern Cape is an unrivalled Big Five Family Safari destination. Families are able to combine their exciting Big Five safari with a variety of activities including beach holiday activities ideal for children, traditional cultural Xhosa village visits and more...
Family-friendly Eastern Cape lodges offer specially-designed children safari and game viewing programmes, with a ranger, so parents are well assured that children are taken care of.
Luxury Safari Experience
Eastern Cape private game reserves and national parks offer a unique selection of luxurious safari lodges that will satisfy even the most discerning traveler. These luxury Big Five safari lodges exude comfort, charm and private intimacy. Guests can enjoy the personal service where all their needs are taken care of.
Experience the rhythm and heartbeat of Africa while admiring the views over grassy savannah plains while on an enjoyable Luxury Big Five Safari. The reserves offer diverse Eco-systems and Big Five experiences that will leave guests humbled.
The 'Big Seven'
Experience the great diversity of environments, outdoor activities and cultural activities in South Africa's second largest province. Eastern Cape safari lodges are the perfect place to relax and marvel in the natural beauty and picturesque views.
Home to Africa's Big Five, the game reserves and national parks offer memorable wildlife experiences where yous can enjoy close encounters with Elephant, Rhino, Buffalo, Lion, Leopard as Great White Shark and Southern Right Whale.
Safari Lodge Accommodation in Style
Going on safari, tracking game in an open 4x4 vehicle, taking lots of pictures of wildlife - sound like the perfect safari? Head back to the comfort of your Eastern Cape safari lodge or luxury camp and relax with a sun-downer while enjoying great views. Indulge in a fireside dinner in the boma under the canopy of stars and swop stories of the days sightings - that's the life!
Eastern Cape Game Reserve Activities
Enjoy unforgettable boating activities in Eastern Cape.The game reserves in the Eastern Cape offer activities which include open vehicle game drives, night drives, Elephant interactions, guided bush walks and boat cruises. Experience this amazing wilderness in a malaria-free environment.
More Than Safari In The Eastern Cape
A view of a beach in Eastern Cape.The malaria-free Eastern Cape in South Africa is the ultimate safari holiday destination. Combine an exciting Big Five safari with beach holiday activities or visits to traditional villages and famous historic towns.
Xhosa People
A view of the traditionals Xhosa people dancing.The ancestral land of the Xhosa people, the Transkei, is birthplace of Nelson Mandela. It was once one of the richest game areas of Africa. The Eastern Cape is now returning to the abundance of its past. Inclusions of the local communities in its tourism, and game replenishment projects have created a show-case of innovative achievement.