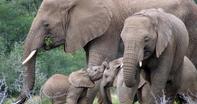 Whether you're planning an escapade in the bush or a relaxing family vacation, the Eastern Cape is the ideal Big Five safari destination in South Africa.
Eastern Cape game reserves are child-friendly and offer a selection of game viewing activities for the whole family.
Embark on an exciting Eastern Cape wildlife safari in South Africa to experience the unparalleled beauty of this malaria-free safari region! With a wide variety of landscapes, from sandy beaches to majestic mountainous regions and thick coastal forests, you will be able to explore diverse wildlife including lions, leopards, elephants, rhinos and more.
And don't forget to visit the many cultural sites along your journey – dive into the heritage of the Xhosa people, explore fortified villages and meet traditional healers on your quest for authentic African experiences.
Learn more about Eastern Cape safari experiences in South Africa.