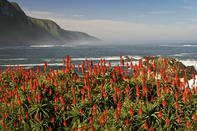 © Jacques Marais
The boundary of the Tsitsikamma National Park, South Africa stretches some 5km (3 miles) out to sea, protecting a wonderland of inter-tidal life, reef and deep-sea fish.
This beautiful park conserves a wonderful stretch of temperate coastal forest, as well as extending 5km into the sea thus forming a marine reserve as well.
The scenery is breathtaking
- wild rugged coastal cliffs plunge into the sea, and dark black rivers run through deeply incised gorges with ferns, flowers and mosses clinging to their sheer sides.
Deep forest gives way to sunny areas of fragrant fynbos with a myriad of
colourful plants and flitting iridescent birds
. The main camp is at the Storms River Mouth, where visitors can choose to stay in self-catering wooden chalets or camp. There is a shop and restaurant with a fantastic view. A smaller, much more basic camp at
Nature's Valley offers camping
and simple huts.
Activities include scuba diving, kloofing on the Storms River, the Otter and Dolphin hiking trails,
day walks, swimming, fishing, birding
, snorkelling, and an escorted boat trip up the gorge. The main camp at Storms River Mouth is just off the N2, about 600km from Cape Town and about 200km from Port Elizabeth.