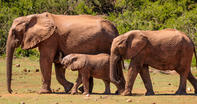 © Ann Gadd
The Addo Elephant National Park is the 3rd largest National Park in South Africa and is situated in a malaria-free safari area in the dense valley of the Sundays River region in the Eastern Cape.
This wildlife conservation park lies close to Port Elizabeth in South Africa and is home to Elephant, Rhino, Buffalo, Lion and Leopard, spotted hyena many antelope species and the unique flightless dung beetle found almost exclusively in Addo.

There are over 600 elephants in the Addo Elephant National Park with over 48 endangered black rhino, over 400 Cape buffalo and with the extension down to the sea also the southern right whale and the great white shark off the Algoa bay coast. Several species of rare and endemic plants can be found in this area but it is vulnerable to elephant browsing and is in the process of becoming extinct.

Addo Elephant National Park safari lodges activities include elephant interaction safaris, hiking and nature walks, horse riding, game drives and birding with water activities like the Marine Eco-tours available to catch a glimpse of a great white shark or/and southern right whale.
The Bedrogfontein 4x4 trail offers breathtaking views and can only be driven one way with many rock art paintings scattered throughout the area.

See Addo Elephant National Park safari lodges below.