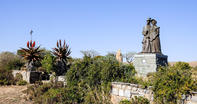 © Tracey Derrick
Grahamstown is quaint little located in the Eastern Cape of South Africa, and is renowned for its stunning buildings, mainly places of worship and religious practices. This Eastern Cape town is situated northeast to Port Elizabeth and southwest to East London, and can be accessed by road and air transfers.

Grahamstown is a vibrant university town, ideal for a break from a South African safari. This town in Eastern Cape is the host of many annual festivals and events, including the biggest arts festival in the world. The spectacular Georgian, Victorian and Edwardian architecture.

Grahamstown accommodation in Eastern Cape is offered at luxury hotels and safari lodges. Activities in Grahamstown includes tours of museums and historical buildings, cultural tours, and game drives are available near the town. See below for exclusive Grahamstown accommodation and safari recommendations in Eastern Cape.