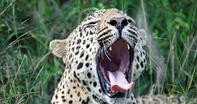 Kwazlulu-Natal safari lodges offer excellent game-viewing opportunities where you can encounter the famed 'Big 5' wildlife of South Africa.
Extend your wildlife safari into the KwaZulu-Natal battlefields to experience the intriguing history of the area or join in a cultural tour to learn of the Zulu customs.
Later, enjoy a traditional Zulu meal around the fire and visit the village healer in Zululand, South Africa. Combine the savannah plains and African wildlife with a snorkel safari and scuba diving delights.
Best KwaZulu-Natal Safari Destinations
Family Holiday Getaway
As a family-friendly safari destination, KwaZulu-Natal provides a wealth of activities for kids to enjoy. From fun-filled water sports at iSimangaliso Wetlands Park to learning about wildlife on safaris at Hluhluwe-Imfolozi Park.
See these family friendly safari lodges
Exciting year-round beach activities and water sports in the Indian Ocean are offered for those who want the best of both worlds. And this includes children. Be sure to check child policies at these lodges regarding age limits and bring your children with for an educational experience. See Family Holiday Activities
Honeymoon Escape
Indulge in a
honeymoon safari
, or even have a
safari destination wedding.
Many of these KwaZulu-Natal safari lodges in South Africa have a secluded honeymoon suite tucked away somewhere for just the two of you.
Safari and Beach Breaks
KwaZulu Natal is an all-round destination, offering the best of bush and beach safari holidays. Northern KwaZulu-Natal has fabulous Big Five game reserves between the Drakensberg Mountains and the excellent beaches along the Elephant Coast. Enjoy Turtle Tours or swimming on a tailor-made bush and beach safari.
Kwazulu Natal is renowned for its sub-tropical beaches along the coastline of the warm Indian Ocean. The beaches range from the family friendly escapes in more commercial areas to the wild Zululand coastline which are perfect for surfers and water sports enthusiasts. Some of these beaches have achieved Blue Flag Status which is an international standard that has made Durban and Kwazulu-Natal famous as a seaside destination. Beach safari Lodges
Historic Battle Fields
A wonderful way to explore the landscape of Kwazulu-Natal while at the same time gaining insight into the unique history of South Africa, is to go on a Battlefield Tour. These tours include descriptions of the events that took place surrounding the Anglo-Zulu War.
Relive the epic clashes that took place at the Battle of Rorke's Drift and Isandlwana and discover new ways of life by partaking in cultural interactions with the Zulu people.

KwaZulu-Natal Battlefields Lodges
Zulu Culture
Enjoy dinner with Zulu dancers and entertainment. Whether it is around a blazing boma fire or under a private lantern lit table, you are under South Africa's stars. Experience the
fascinating traditional Zulu culture
during a stay at KwaZula-Natal safari lodges and indulge in wonderful cuisine and traditional dancing.