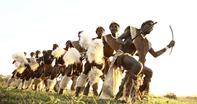 Zululand is located in rural KwaZulu-Natal but offers an authentic cultural experience in South Africa. In this region of South Africa, traditional cultural beliefs are still practiced.
Zululand safari lodges can be accessed by road and air transfers for the ultimate cultural experience.
Zululand is home to many cultural villages, where a first-hand experience can be delighted. At Shakaland, Dumazulu and Simunye insight into the customs, beliefs and traditions of the local Zulu tribes is learned. Part of the experience includes an overnight in the homestead, savouring traditional cuisine and Zulu beer, and a visit to the sangoma (traditional healer).
Zululand accommodation is offered at luxury safari lodges in KwaZulu-Natal. Activities at Zululand safari lodges in Zululand include cultural village tours, beer making and game drives.
See below for Zululand safari lodges in KwaZulu-Natal.