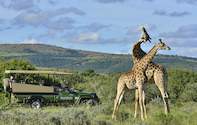 Shamwari Private Game Reserve spreads over an area of 25 000 hectares of malaria-free safari land. This award-winning Big 5 private game reserve is situated in the Eastern Cape of South Africa.
Shamwari Private Game Reserve is set in a malaria-free safari area
Abundant wildlife including the Big 5
Various superb luxury safari lodges to choose from
Shamwari is only 45 minutes from Port Elizabeth
Your Shamwari Private Game Reserve Experience
Shamwari Private Game Reserve is situated in verdant bush along the Bushmans River, halfway between Port Elizabeth (45 minutes drive outside the city) and Grahamstown, a pleasant drive from Cape Town, forming a natural extension to the famous Garden Route.
Steeped in Settler history, and dating back to the time when a multitude of game roamed wild and free, the 25 000 hectare reserve boasts 5 eco-systems, thus enabling the support of many forms of plant, animal and bird life.
This Eastern Cape game reserve is the ultimate South African adventure and conservation effort coupled with responsible tourism. Visit the Wildlife Rehab Centre and the Born Free Big Cat Sanctuaries to learn more about conserving the local wildlife.
Shamwari Private Game Reserve welcomes children at selected lodges including Riverdene Family Lodge and Sarili Lodge. The Kids on Safari Adventure Centre offers fun activities and facilities for kids including zip-lining, rock climbing walls, tree houses connected by suspended walkways, an adventure slide, a maze, kids cooking lessons, crafts and more.