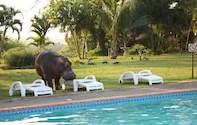 Elephant Lake Hotel is located on the shores of beautiful St Lucia, an amazing South African holiday spot bordering iSimangaliso Wetland Park in KwaZulu-Natal.
Why We Love it and You Will Too
Nature lovers will love being so close to iSimangaliso Wetland Park
Hippo, crocodile and turtle hatching tours will keep the whole family entertained
Get close to the water while snorkelling, deep-sea fishing and nature boat cruises
Little guests are welcome and will have fun at the kids entertainment area
All rooms have a private terrace so you can admire the St Lucia Estuary
Your St Lucia Holiday Experience
St. Lucia is among South Africa's most beautiful places for nature lovers and adventure-seekers. Its natural beauty and wildlife are untouched, and there are thrilling activities.
Elephant Lake Hotel is a full-service hotel with 58 rooms, it has a reputation for high-quality, exceptional service and excellent experiences. The staff members are friendly, and the hotel is committed to preserving the environment.
Elephant Lake Hotel is located on the pristine shores of the St Lucia Estuary - the gateway to iSimangaliso Wetland Park. This Natural World Heritage Site has multitudes of hippos, crocodiles, flamingoes, pelicans and an abundance of bird species.
All of the rooms in this beautiful St. Lucia hotel overlook the estuary. Each room also has a private terrace with water, sand, and wildlife views. Elephant Lake Hotel has a conference centre accommodating 100 guests, a swimming pool and kids entertainment area.
Hippo Steakhouse serves breakfast, lunch and dinner, overlooking the beautiful hotel gardens and the St Lucia Estuary. Room service is also available making it super simple and quick if you want to stay in for dinner.
The surrounding area also offers tons of attractions: hippo, crocodile and other tours on the St Lucia Estuary, Isimangaliso Wetland Park, Cape Vidal and Mission Rocks. Get up close to nature on deep-sea fishing trips, snorkelling and turtle hatching tours.
Travel Tip: The nearby Xulhanka Cultural Zulu Village is a traditional Zulu village where guests can experience Zulu culture first hand.