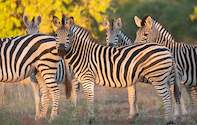 © Shem Compion
East Africa is world famous for the mass migration of Wildebeest and Zebra that happens every year and boasts the fascinating sight of thousands of animals roaming freely from Tanzania into Kenya.
Some national reserves in kenya and game sanctuaries are situated near rivers and offer exciting views of crocodiles and elephants. Another highlight is a visit to the Shimba Hills National Reserve. This is the only place in whole Kenya where you can see the magnificent Sable antelope. Enjoy fascinating wildlife in beautiful surroundings with volcanic hills and grasslands.
Lewa Downs
Lewa Downs is a 16 000 hectare private ranch with black and white Rhino, Elephant, Buffalo, Lion and Leopard, Giraffe, Eland and Oryx. Cattle are still farmed here even though it is a wildlife sanctuary, the scenery is beautiful and there is a lovely stone and thatch lodge. Night drives are a speciality as there is an abundance of nocturnal creatures.
Visit Lewa Wildlife Conservancy
Masai Mara National Reserve
The Masai Mara National Reserve in Kenya is home to the vast Serengeti Plains, the Big Five and the never-to-be-forgotten mass migration of Wildebeest and Zebra that happens every year. This reserve is ever popular and immortalised in films such as Out of Africa. The Mara has rolling grasslands and acacia savannah, sharing the Serengeti Plains with Tanzania. The animals roam freely between the two countries in search of food. Rich with game, visitors can see Elephant, Lion, Rhino, Buffalo and Leopard as well as the beautiful Cheetah in the reserve.
Other animals include Spotted Hyena, Black Backed Jackal, Hippo, Eland and Giraffe. In fact, the Lion population is doing so well that they are seen often and appear to be quite used to vehicles. The migration happens every year in late July / August, when millions of Wildebeest and Zebra cross the Mara River into Kenya, it's a gruesome end for thousands that get taken by predators and crocodiles at the crossing. The same journey happens again in reverse during October.
The Masai Mara has reserve status so that the Maasai people, who have occupied the area since the 17th century, can live and continue their way of life. The proud Maasai are herdsmen and warriors, living harmoniously amongst the wildlife as pastoralists and not hunters. Visitors may see a traditional dance performed by the men at some of the lodges.
Various shards of pottery and arrowheads can be found in the Lemek Valley in the north which was occupied by Neolithic man going back in time about 2 000 years. Visitors can find a wide range of accommodation in the Masai Mara or join an organised safari. Those choosing to self-drive can do so from Nairobi in about 6 hours, alternately flights are available from Nairobi Wilson Airport which takes about half an hour.
Visit Masai Mara National Reserve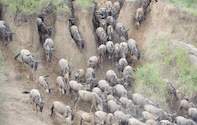 ©Shem Compion
Mount Elgon National Park
On the border between Kenya and Uganda, Mount Elgon is an extinct volcano. The main attractions here are the Elephant, the only place in the world where they will go underground in search of salt found in the caves on the slopes. Visitors are most likely to see the Elephant in the Kitum cave, but there are 2 others open to the public, Chepnyali and Mackingeny.
The Park has great potential for hiking activities; however Ugandan Elephant poachers and ethnic clashes have been a severe problem in the past, hikers can make enquiries about safety in advance if intending a visit.
Saiwa Swamp National Park
Covering 2km (1 mile) this delightful little Park is not far from Kitale and home to the delicate Sitatunga antelope, a swamp dweller able to walk on reed beds. The Park was created in order to provide protection for this creature. Visitors can only explore this park on foot via the footpaths and duck boards with care taken around the observation towers.
Other residents in the swamp are the attractive looking black and white Colobus Monkeys and the De Brazza Monkeys who are a little shy. Saiwa Park is located east of the Kitale-Kapenguria Road; there is a signpost and turnoff 15km (9 miles) from Kitale.
Taita Hills Wildlife Sanctuary
Privately owned, this 11 000 hectare animal sanctuary has abundant game, much the same as would be found in Tsavo West. The Group runs 2 luxury safari lodges and a luxury camp, one of the lodges is built on stilts with suspended walkways under which Elephants wander about, lots of wildlife are attracted by the waterhole and salt lick. Alternately, the other lodge looks much like a fortress of Germanic origin.
Visit Sarova Salt Lick Game Lodge
Samburu National Reserve
Off the beaten track but very rewarding nonetheless, Samburu National Reserve in Kenya lies on the banks of the Ewaso Nyiro River. This shady treed setting is ideal for attracting Elephant, Lion, Zebra and Giraffe in from the savannah plains. Leopard can often be seen here too. Because it is not well known, the Reserve has escaped overcrowding from visitors. Also very close to Samburu is Buffalo Springs and Shaba National Reserves.
Visit Samburu National Park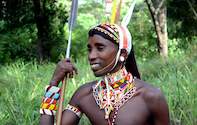 ©Karl Svendsen
The Samburu Complex
This consists of 3 national reserves, Samburu, Buffalo Springs and Shaba. Located north of Isiola, the reserves are grouped along the Ewaso Nyiro River, covering an area of 300km (186 miles). Lesser known and off the traditional safari track, visitors can explore the tree lined river which flows all year, attracting a lot of game especially Elephant.
Other animals that can be seen in the Samburu Complex include Buffalo, Lion, Cheetah and Leopard, Warthogs, Reticulated Giraffe and Grevys Zebra, and Crocodiles are also possible. Birdlife is also prolific. Rhino sadly has been poached from here completely. Visitors will need to pay to enter each reserve even though they follow one another continuously.
The surrounding landscape encompasses desert scrub and savannah plains, the local Samburu herdsmen can often be seen going about their day dressed in bright red blankets and carrying spears
Visit Samburu, Shaba and Buffalo Springs
Shimba Hills National Reserve
Just 56km (35 miles) south of Mombasa, Shimba Hills National Reserve in Kenya makes an excellent day out for visitors who would like a break from the fabulous nearby beaches at Tiwi and Diani. A rare treat at Shimba Hills is the opportunity to see the magnificent Sable antelope this is the only place in Kenya to see these tall animals with their amazing horns.
The reserve consists of rolling jungle-covered hills and grassland. Lots of Elephants and even Leopard can be seen at the baited waterhole of the treetop lodge. This is also a good place to escape to cooler climes after the humidity of the coast.
Sibiloi National Park
This Park is remote; visitors need 4x4 vehicles and should be completely self-sufficient and carry everything with them only water is available from the headquarters. The Park provides a protected area for a variety of animals, Crocodile,
Hippo, Cheetah, Grevys Zebra, Beisa Oryx
and Gerenuk. Past excavations and evidence of petrified tree trunks have revealed a pre-historic past. The Park is 100km (62 miles) north of Loiyangalani and enquiries should be made in advance with regard to possible bandit activity in the area.
Lake Bogoria National Park
With spectacular scenery, Lake Bogoria is a shallow soda lake covering 30 square kilometres, located between Nakuru and Lake Baringo off the B4. The lakes waters cant support fish but are rich with salt, minerals and blue-green algae
perfect for Flamingos!
There are hot springs and steamy geysers, but due to the extreme temperatures visitors should be cautious and certainly not touch the water.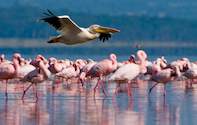 ©Shem Compion
Kisite National Marine Park
For great snorkelling in this Park, some of the best in Kenya, visitors need to first check in with the Shimoni headquarters and then go off-shore south-east of Wasini Island.
Ruma National Park
Animals that live here include Roan antelope, Oribi, Rothschild Giraffe and Jacksons Hartebeest which are protected here, also present are Leopard and Cheetah. The Park is small and situated 25km (16 miles) south of Homa Bay.
Marsabit National Park
A forested Mountain that rises up out of the desert like an oasis, Marsabit is an amazing place, but remote. The thick forest is the core of the Park, it is difficult to see the game, which is not normally found in northern Kenya, such as Rhino, Elephant, Leopard, Lion, Buffalo and Cheetah, also Grevys Zebra (endemic), reticulated Giraffe, Hyena, Wart Hog and antelope. There is also an abundance of rare birds.
A delightful place to camp is Lake Paradise; there are no facilities, but good bird watching opportunities as plenty of water birds favour the area. Getting to the Park is a bit tricky, it is best to fly in to Marsabit, as the road from Isiolo is very rough and bandits are common.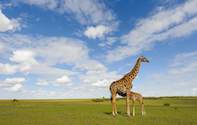 ©Shem Compion
Best Kenya National Reserves and Parks