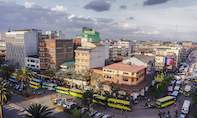 © Nina Stock
Nairobi street.
Frequently asked questions about entertainment and tourist attractions in Kenya.
What is the Food & Cuisine Like?
Nairobi offers some of the finest dining establishments in Kenya, if not Africa. These restaurants serve all types of cuisine and specialties, from fast food to a la carte. Many of the five star hotels boast world class restaurants on the premises, most of which are expensive but worthwhile.
Restaurants serve cuisine catering to all palates, including Brazilian, Chinese, Japanese, Thai and French. The fast food restaurants are mainly by South African chains, and include Nandos and Steers. The Carnivore Restaurant in Nairobi is often considered as 'Africa's greatest dining experience'.
What can I buy when shopping in Kenya?
You can buy pretty much anything - just like the rest of the world. However, Kenya is famous for its many handicrafts, which is often the signature of a particular tribe or region. These handicrafts are sold in the street or the market places, the most popular being the
Maasai Market in downtown Nairobi
.
These markets sell Kisii stone (soap stone) carvings, traditional Maasai jewelry, Mkonde wood carvings, Lamu chairs and batiks.
The Village Market in Gigiri is also a good place to purchase goods; however, they are a bit pricier. Mombasa also plays host to a good selection of stores selling craft goods.
What is the entertainment and nightlife like?
Once again, just like any where else on Earth, there are venues catering to differing life-styles and preferences.
When on a safari in Kenya, your nightlife includes listening to the night time telegraph of the nocturnal animals of the wild. In the city, there are a number of interesting pubs and restaurants that are worth going to. Beer is a common drink in Kenya, with many brands available. Restaurants and bars in Kenya include the Simba Saloon, Mercury, The Moonflower, and the Rusty Nail.
What are Kenya's Main Attractions?
The most popular and talked about event in Kenya is probably the great Migration, when millions of Wildebeest and Zebra take the treacherous journey from the Serengeti National Park in Tanzania, to the Masai Mara National Park in Kenya. This migration happens between June and September and is known as earth's most dramatic and greatest spectacle.
Kenya attractions
Aberdares National Park
Kenyan Coast
Laikipia Plateau
Lake Victoria
Mount Kenya
Nairobi
The Rift Valley Lakes
Tsavo and Chyulu Hills