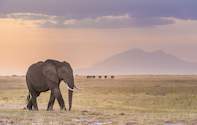 © Shem Compion
A Ngorongoro Crater safari in Tanzania involves Big Five game viewing excursions along the crater floor, day tours and specialised safaris to places of interest such as Olduvai Gorge.
Ngorongoro Wildlife Lodge offers specialised birding and photographic safaris, trips to Olduvai Gorge and Laetoli, crater rim walks to Lake Eyasi and great game drives on the crater floor as part of its Ngorongoro Crater activities portfolio. The crater is home to Lion, Elephant, Rhino, Buffalo, and shy Leopard, Hippo, Hyena, Jackal, Eland and vast herds of antelope species. Birds that can be spotted include Lammergeyer, Verreaux's Eagle and Egyptian Vulture and Flamingos.
Other activities on a Ngorongoro Crater safari in Tanzania include cultural visits with the Maasai people in traditional villages, beautiful displays of Maasai song and dance at the lodge in the evenings and wild life talks and film shows. One of the best places to round off an exciting day is enjoying sundowners on the open terrace of the Rhino Lounge Bar which has panoramic views of the whole crater.
Activities
Spectacular wildlife watching
Photographic safaris
Game drives around the crater floor
Specialized ornithological safaris
Walks along the edge of the crater towards Lake Eyasi
Visits to authentic Maasai villages