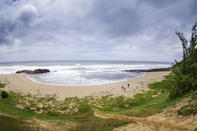 © Jacques Marais
The beautiful and diverse Elephant Coast just north of Durban has a lot to offer - where else can you combine a Big Five game drive with snorkelling or scuba diving in the same day? But that's not all, it's just the beginning of a long list of exciting things to see and do in northern KwaZulu-Natal.
The Elephant Coast or Maputaland encompasses an exceptional stretch of coastline and associated attractions between St Lucia in the south and Kosi Bay in the north. It's a treasure trove of natural splendour showcasing pristine wetlands, freshwater lakes, rare sand forest, rolling bushveld, unspoilt beaches and magnificent coral gardens.
Coastal Delights
The iSimangaliso Wetland Park is a World Heritage Site and a sanctuary for wildlife and sea life. Here you'll see some of the tallest forested sand dunes in the world, incredible bird life on the shores of Lake St Lucia and fabulous marine life. Other wonderful seaside destinations include Cape Vidal,
Sodwana Bay
, Rocktail Bay and Kosi Bay where you can see an ancient fishing tradition still in use today. Enjoy superb water activities such as snorkelling and scuba diving, canoeing, cruising and fishing.
The Big Five and so much more
The Elephant Coast is well known for its amazing efforts in Elephant and Rhino conservation. You can go on thrilling game drives and bush walks in a number of national parks and reserves including scenic Hluhluwe iMfolozi Park, Mkuze Game Reserve, Ndumo Game Reserve and Tembe Elephant Park which is a rugged retreat accessible only by 4x4 and home to Africa's biggest and oldest Elephants.
A number of private reserves such as Phinda, Nambiti and Thanda are also located in Maputaland. If Wild Cats are your passion then the Rehabilitation Centre at Emdoneni Lodge or the Le Seur Cheetah Project at Nambiti are the places to go.
The Zulu Kingdom and Historic Highlights
Visit Zululand and discover the culture and history of the Zulu people. You can meet community members, throw the bones for the Witch Doctor and stay in a traditional Zulu Village. Enjoy the colour and vibrancy of Zulu culture and find wonderful arts and crafts. Take a trip down memory lane and investigate numerous historic highlights. Murder, intrigue, battlegrounds, wars and powerful kings, it's all here and more. Visit Dingane's Grave, Border Cave (a prehistoric archaeological site) and Ghost Mountain where mysterious lights, fires and sounds have been witnessed over the years.
Sibaya and Jozini
Lake Sibaya is a stunning freshwater lake that used to be linked to the sea long ago - it is cut off now and accessible by 4x4 only. In the crystal clear waters a variety of marine fish species have adapted to their environment and become freshwater living. It's a great fishing and birding destination and you could spot Hippos and Crocodiles. Jozini Dam, near the Swaziland border at the foot of the Lebombo Mountains, is superb for houseboating and Tiger fishing - it's the only destination for this type of angling so far south in Africa.
Seasonal Specialities - Whale Watching and Turtle Nesting
Whale Watching is a highlight on the Elephant Coast between July and December when Humpback and Southern Right Whales visit these coastal waters on their migrations north to Mozambique and then south again on the way to Antarctica. In the summer months between October and January you can witness a miracle - turtle nesting!
There are 5 sea turtle species found in these waters, but only the Leatherback and Loggerhead turtles breed here. The females crawl onto the beaches at night to lay their eggs as part of an ancient ritual which has been performed in the same way by countless generations.