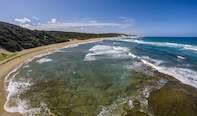 © Roger de la Harpe
Getting away from it all these days does not mean you have to miss out on the action. Ask any informed traveller and you will soon find that getting active in the great outdoors has never been easier or more fun than right now. Higher disposable incomes, more leisure time, a funky array of outdoor toys and a dazzling range of adventure destinations beckon to both local and international tourists on holiday in South Africa.
The Maputaland wilderness region in northern Kwazulu-Natal is currently rated as one of the country's top eco-destinations, offering visitors a
diverse selection of active and leisure opportunities.
Even the most jaded traveller will agree that Maputaland is setting new standards when one considers the
sheer range of outdoor options
on offer in this remarkable region.Jump-start your holiday with a mind-blowing menu of possibilities, including dawn
game drives in Big Five territory;
lazing away your days on a palm-fringed beach; donning scuba gear to dive down into the tranquillity of the Big Blue; casting a saltwater fly for bonefish or rigging up a rod for blue marlin;
hiking with elephants and rhinos;
taking on the challenge of rugged 4x4 trails or savouring the cultural heritage of ancient Thonga and Nguni traditions dating back to a bygone era ...A perfect starting point on any Maputaland visit is the range of activities proffered by the region's world-renowned reserves and parks. Proclaimed in 1894, the Pongola Game Reserve is
the oldest reserve in SA
and it offers sundowner boat cruises, elephant monitoring and rhino tracking in addition to their
regular game and birding activities.
Nowhere else in the world will you be able to come face to face with the primordial gaze of a endangered black rhino or observe an elephant matriarch protecting a newborn calf at such close quarters.Ndumo, Phinda & Mkuze Game Reserves and Tembe Elephant Park are also famed for both self-drive and guided game-viewing, all of them featuring a range of
luxury and self-catering accommodation options
to ensure your comfort during your stay in the bush.Say good bye to the Big Five and head for Maputaland's
pristine tropical beaches
, either to laze away languorous days or to engage the ocean in a bout of wild-water aqua action. Surfing, jetskiing, sea-kayaking and angling tempt adventurers from the world over to this section of the KZN coastline, allowing them to
indulge in their personal outdoor passions.
An estuary system at Kosi Bay and shallow reefs along the coast offer exceptional saltwater fly-fishing as well as
superb rock and beach angling
, while deep sea operators offer game fishing charters as well. Fishing activities are by no means restricted to the sea alone - at Nkwazi Fishing Lodge on Lake Jozini, anglers may also spin for tigerfish, rated by many afficionados as
Africa's most exciting freshwater species.
On a different note, close encounters with leatherback and loggerhead turtles may be arranged during November to February, but it is imperative that these evening walks are booked well in advance. For those visitors prepared to forgo the comforts of terra firm, a
scuba diving excursion into the indigo domain
of reef sharks and manta rays will be the highlight of their holidays. Bring your own gear or preferably arrange a dive charter with one of many professional operators who know the Maputaland coastline like the backs of their hand.Otherwise opt to
drift in rock pools
or above shallow tropical reefs, revelling in a safe snorkelling environment abundant with a myriad colourful creatures of the sea. Whichever way,
sublime sightings of scorpion fish
, eagle-spotted rays, sea cucumbers and groupers will remain with you for at least one lifetime. Or leave behind both land and water, defying gravity to take to the skies with a Zumat bush pilot to
indulge in aerial sightseeing
from a three-seater, fixed wing plane.Meeting the interesting people of Maputaland should feature high on the agenda of any visitor to the region.
Explore the Makatini Flats
along a scenic route traversing subsistence farms and spectacular sections of sand forest before boarding a canoe to paddle along below ancient sycamore figs and mahogany trees.
Dine on traditional delicacies at Zeph's Tavern,
indulge in a trance dance with a practicing sangoma or learn more about rural vegetable farming.Ultimately the choice is yours ... either cope with the rush hour traffic, the concrete mega-malls and the incessant cell phone ring tones or escape to Maputaland to
experience the peaceful rush
of what must be of the world's last truly wild places.
Copyright © 2002 Jacques Marais.
Maputaland, also known as the Elephant Coast, is located in the northern section of the KwaZulu-Natal province in South Africa....
more