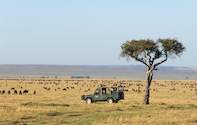 Avail yourself of the many activities that you will find at Little Governors Camp on your Masai Mara safari in Kenya.
The Masai Mara is a unique area with a constant and unrivalled flow of wildlife sightings throughout the year, making it perfect for an East Africa safari. From July to October, the Mara becomes a backdrop for one of the last great natural wonders of the world, when 1. 4 million Wildebeest and Zebra surge up from the Serengeti plains in their annual search for the seasonal grasses that sustain them. It is the wildlife exhibit of the year.
The spectacle as the vast herds of wildlife cross rivers and sweep through the golden grasses, is punctuated by individual struggles with the predators, which are in turn drawn to take their part in this dramatic event. Whilst the migration is spectacular, wildlife viewing at all other times of the year remains almost unrivalled anywhere in Africa.
The Bila Shaka plains, western side of Rhino Ridge and the Musiara plains and Marsh areas are good places to see Topi and general plains game on your East Africa safari, including Thomson and Grants gazelle, Coke's Hartebeest and few resident territorial male Wildebeest.
Hot Air Balloon Safaris over the Masai Mara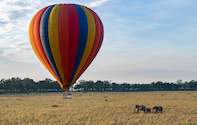 Greet the dawn with an optional hot air balloon safari over the Mara River and witness the wildlife and wilderness of the great plains of the Masai Mara below. The launch site is located behind Little Governors Camp and the flight is an hour long. Have your camera ready to capture the spectacular sunrise and amazing scenery, as you float above the Masai Mara plains. Enjoy a champagne breakfast after you land.
Masai Mara Safari Activities
Game viewing
Hot air balloon safaris
Wildebeest migration
Masai cultural visits
Day and overnight trips to Mfangano Island on Lake Victoria