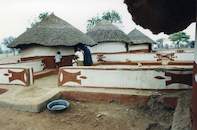 © Peter Magubane
The Venda Bender is a self-drive route through the northern region of Limpopo in South Africa. The Venda people are famed for their skilful art, craft and pottery the Venda Bender is the ideal route to follow if you want to explore the region and learn about the cultural and people found here.
One of Limpopo's most interesting attractions, the Vender Bender route is a self-drive cultural route that starts just off the N1 before Louis Trichardt and meanders onto the R578 towards the quaint town of Elim.To get there one simply needs to head up the N1 from Limpopo's capital; Polokwane and take the right turn onto the R578 to Elim. This twisting and winding road takes you through the heart of the area where the Venda people are from.
The route takes you past Venda craftsmen
, potters and artists and you will be able to see wooden carvings and maybe even meet a Sangoma. The culture and art of the Venda people is saturated with references to the myths and legends of the Venda culture and one will find that the area has a magical feeling to it.Artists in the area use a wide variety of genres and media to produce their etchings,
sculptures, beadwork and pottery
. Through their art the artists play an important role in maintaining and breathing life into the old traditions and myths of the indigenous people. Spending time on the Vender Bender with these artists will help one to gain an interesting insight into the past history and present lifestyle of the people. Every year the Venda people host an arts and culture festival known as the Makhado Arts and Culture Festival where they show off their work.Stop along the way and
visit the Ben Lavin Nature Reserve
; a small 2500 hectare nature reserve that is home to over 50 mammals, over 230 bird species and is rich in archaeological interest with a number of ruins being found there that date back to 1250AD.Further along the route, on the R523 between Thohoyandou and Louis Trichardt, one comes to Lake Fundudzi and the surrounding holy forest known as ThathoVonde.
Lake Fundudzi is a sacred area
for the Venda people as they believe it is full of spirits. Lying in the heart of the Soutpansberg mountain range, the lake is one of the few inland lakes in South Africa and was formed many years ago by a massive landslide. Visitors are seldom allowed to go to the lake shore, which is probably for the best as the lake is full of crocodiles.According to folklore and in accordance with the ritual from which the lake takes its name, newcomers must not look at the lake directly and instead have to view the lake with their backs turned looking at it upside down from between their legs.
Visitors are however able to view the lake
from the approach road in the surrounding mountains.