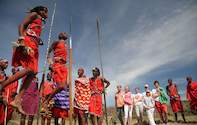 During your stay at this Kenya safari lodge, you will experience the best of Kalama Community Wildlife Conservancy.
Exciting and innovative Kenya safari experiences and game activities, rare wildlife, blissful spa treatments and fabulous meals – truly an exclusive adventure for lifelong memories of a Kenya safari vacation here at Saruni Samburu.
Samburu Warrior Academy
At Saruni Samburu, guests can join the Warriors Academy and get closer to a Samburu way of life. The traditions and semi-nomadic heritage of the local people are an important part of a visit to Saruni Samburu. Experience first hand the bush skills, folklore and ancient wisdom of the Samburu and Maasai. Track wildlife, bead traditional crafts, learn survival skills and how to use a spear, bow and arrow.
Viewing Game in the Kalama Community Wildlife Conservancy
Game activities include guided bush walks, morning and night game drives led by professional Samburu guides in secluded and exclusive territory where guests feel as if they have the place to themselves.
There is a huge variety of wildlife to be seen including the famous Samburu Elephant, Leopard, Kudu, Reticulated Giraffe, Beisa Oryx and Grevy's Zebra. The rare Striped Hyena and Civet are also resident here as well as the Gerenuk and Somali Ostrich.
Bush Dining in Kenya
Guests can savour their experiences over a bush meal in a special setting or enjoy sundowners whilst watching the sun slip past the horizon in riot of colour. There is also a Samburu Wellbeing Space for the ultimate relaxation in the African wilds – massage and spa treatments.
Activities and Services
Day and night game drives
Guided bush walks
Bird watching
Cultural visits
Samburu Wellbeing Space for massage and spa treatments
'Warrior for a Week' Programme
Bush meals and sundowners
Drawing safaris, led by a professional artist
2 infinity swimming pools
Star gazing
Rock climbing
Trekking up Mount Ololokwe
Saruni wedding packages