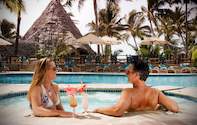 Pinewood Beach Resort & Spa, a Kenya beach resort offers a warm welcome, great hospitality and service in a stunning location on Galu Beach near Diani Beach, South Coast Mombasa.
Rooms and Suites just steps away from beautiful Galu Beach
Stunning wedding and honeymoon venue
Watersports, kite surfing and beach volleyball
Located just 1 hours drive south from Mombasa airport
Guests searching for the perfect family friendly Kenya resort will find excellent service and amenities, fantastic watersports and facilities for a holiday to remember at Pinewood Beach Resort & Spa.
There are 58 attractive rooms and suites in spectacular gardens right next to one of the finest beaches in Kenya. Galu Kinondo Beach is a mile long, unspoilt and secluded, really ideal for weddings, and where honeymooners and families can relax.
Various meal plans can be included and for those staying in the suites a personal chef to prepare dinner in the kitchen of each suite. There are 4 restaurants, 3 bars and 2 lounges to choose from as well as Satellite TV lounge and library, there is tea and coffee available 24 hours a day at this family friendly Kenya resort.
Hearing Wedding bells? Pinewood Beach Resort & Spa can arrange everything from start to finish; the bride and groom can relax and enjoy a delightful honeymoon. Blessings and Renewal of Vows can also be arranged.
The Amani Spa and Gym offers a range of beauty, massage and hydrotherapy treatments in tranquil single or double custom-built rooms as well as a full range of fitness equipment.
Pinewood Beach Resort and Aqualand together offer a wide range of activities and watersports. Guests can play various racquet sports; enjoy the swimming pool and Jacuzzi or learn to scuba dive, snorkel, windsurf and kiteboard.
Guests at Pinewood Beach Resort and Spa can enjoy after dinner beach BBQ nights on selected nights. Maasai and Giriama dancers, singers and acrobats show off their talents during dinner.