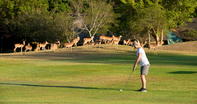 Golf holiday in Southern Africa offer a variety of amazing award winning experiences that make for the ultimate relaxing getaway. Perfect your swing amidst some of the world's most beautiful scenery while discovering nature.
Nothing comes close to a beautiful relaxing environment while playing a round of golf. Golfers are spoilt for choice in South Africa, as there are many amazing award-winning golf courses to choose from. South Africa has produced some of the world's finest golfers, and many of these prestigious golf lodges have golf pro designed courses and facilities.
Imagine hitting that hole in one amidst the lush, tranquil surrounds of the South African wilderness. Practice your swing, while giraffes gently walk along the course to nibble on the rich vegetation surrounding you on a golf holiday in South Africa. Enjoy the fresh air and rich aromas of the grasslands, while hippos grunt in the background while wallowing in the nearby river.
With such a diverse range of scenery available on golf holidays in Africa, you can experience golfing with the ocean, winelands, bushveld or Victoria Falls in the background.