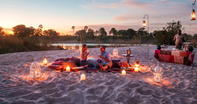 A Romantic holiday in Africa makes for the perfect getaway for you and your loved one. A romantic escape into the wild natural beauty of Africa will leave your love restored, replenished and revived.
A romantic holiday in Africa will undoubtedly prove to be one of the most sensational and memorable experiences for you and your partner. The beautiful rolling landscapes and breathtaking sunsets create the perfect settings for a romantic getaway.
Sip the finest champagne along the mighty Zambezi River while you gently glide across the smooth waters on a traditional Makoro boat. Enjoy a freshly prepared picnic under the shade of the rich forest treetops while rare birds call out to the skies as they weave their nests high above. The tranquil surrounds will help you not only connect better with your loved one, but also with nature.
Surround yourself with the best in decor and design at the many romantic lodges overlooking the most scenic landscapes in Africa. Unwind with a couple's massage, while well-trained therapists release your muscles from a long day in the bush. Soak up the warm natural spring waters from the sauna or enjoy sundowners while cooling off in the plunge pool overlooking the wilderness.
Dine outside under the richly scented Marula trees or spend a night under the starry night sky to the sounds of the night calls of the wild. Connect and grow closer with that special someone amidst some of the most beautiful canvases painted by nature on a romantic holiday in Africa.
You can also opt for a romantic tropical beach getaway and enjoy champagne breakfasts underneath the swaying palms as the clear turquoise waters come gently lapping in on pristine shores. You might even be able to spot a pod of dolphins and discover a tropical paradise beneath the sea while snorkeling together during the day. Whether in the bush or on the beach, a romantic safari getaway will undoubtedly bond you closer with your loved one and Mother Nature.