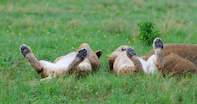 © Shem Compion
There are an abundance of relaxing holidays in Africa for those looking to simply unwind. From the vast shorelines, deep forested sanctuaries to the vast open plains of the bushveld, you can expect to find some of the best places to escape from reality.
Experience some of the most relaxing holidays around Africa with a variety of fantastic options to help lose yourself in the beauty of this continent. For those looking to simply unwind and enjoy the surrounds, a relaxation focused holiday around Africa is readily available all year round. Choose from the peaceful seashores with temperate climates, the tranquil grasslands in the wilderness or a secluded lodge to de-stress from the daily grind.
Escape by the seaside as you watch the gentle tide lap in, all the while listening to the soothing motions of the crashing waves on the surf. Lounge on your deck chair or curl up on your sofa as you listen to the sounds of nature call out in the distance. The harmonious rhythm of the great outdoors will definitely leave you refreshed, as you become part of Mother Nature's world.
Visit a spa and indulge in a full body treatment while overlooking a large body of water inhabited full of life in slow motion. Fill up a large bubble bath overlooking a beautiful mountain nestled wine estate, while sipping on chilled champagne. The ultimate relaxing holiday in Africa is out there waiting for you to come and replenish you mind, body and soul.