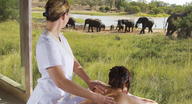 A Relaxing spa holiday in Africa offers the ultimate relaxation getaway from the hustle and bustle of everyday life. Unwind overnight in one of the many beautiful spa wellness sanctuaries located in some of Africa's most beautiful and tranquil locations.
A Relaxing spa holiday in Africa at one of the many exclusive award-winning spas across Africa will leave you feeling rejuvenated and invigorated from the many therapies on offer. Surround yourself among some of most beautiful natural scenery in the country. Safari spas offer wildlife viewing as well as pampering spa treatments.
You will be treated with the uttermost care from morning until night amidst a peaceful, loving and tranquil environment that's nourishing for the mind, body and soul. Whether you choose to unwind in a group or alone, a relaxing spa holiday in Africa will leave you replenished and ready to take on the world.
Experienced therapists will guide you through your stay as you embark on a soul-searching journey to find yourself again through the best relaxation treatments. Loosen up the body's muscle tension with a dip into the plunge pool while sipping on a refreshing drink overlooking breathtaking scenery.
Open up your skin's pores and let go of your inhibitions in the hot sauna before a much needed body scrub. Let yourself be embalmed in 100% organically locally grown products fresh from the African soil. These treatments cannot be found anywhere in the world, making this spa holiday a truly authentic experience. These amazing spas are perfect for anyone looking to reconnect with themselves or with their partners.