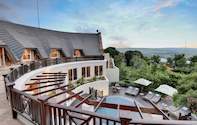 Mount Grace Hotel & Spa is ideally positioned for that perfect retreat and is also an attractive option for visitors from abroad setting out or returning from a holiday.
Located in the Magaliesburg area
Set 85km from O.R. Tambo International Airport
The hotel features a range of pampering spa treatments
Mount Grace Hotel & Spa is an ideal choice for guests seeking a sophisticated country hotel in Magaliesburg with the highest levels of service and luxury, as well as that personal charm found only in small establishments. This Magaliesburg hotel is set in 10 acres of exquisite gardens and is a haven of tranquillity and beauty offering the best of South African rural life.
Mount Grace Hotel & Spa boasts a fantastic health spa in Magaliesburg, including hydrotherapy, massage, body wraps, and skin care treatments. The hotel's therapists spend time with you to create an individualised program that ensures total wellness of body, mind and soul.
Activities include mountain biking, croquet, bowling, bird watching, walks, tennis, picnics, golf (Pecanwood is about 15 minutes away) and hot air ballooning.
Meals are served at the hotel's two restaurants - Rambling Vine and Twist Restaurant. Seasonal menus and award-winning wines can be enjoyed at Rambling Vine, whereas Twist Restaurant provides an unconventional way of serving all-time favourites such as waffles and home-made pastries.