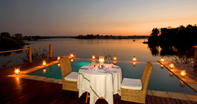 A Relaxing Riverside Holiday in Africa is the ideal retreat to renew your energy and be free of your worries. Enjoy romantic sunset river cruises and dining by candlelight on the riverbank.
A holiday along one of Africa's mighty rivers has proven to be one of the most relaxing experiences. The gentle ebb and flow of the cool waters constantly lapping upon the shore will soothe any weary soul. Being near a large body of water will undoubtedly create the perfect environment to de-stress, as the slow motion creates a perfect rhythm all around you.
Africa's rich lands are abundant with many rivers nourishing it everyday, making life along the river beds a sanctuary of replenishment and serenity. Gently ride along the tranquil waters in a traditional log cut Mokoro, steered by an experienced guide. Watch swooping eagles dive in for the prey on the river surface, while wallowing hippos waddle gently in the reeds on Relaxing Riverside Holiday in Africa.
Sip sundowners from the comfort of your deck or from the slow moving boat as you ride off into scarlet hued skies in the evening. Enjoy a scrumptious dinner with wine while the bubbling waters make its own tranquil symphony as it winds itself downstream. Embrace the peaceful life around the rivers of Africa, as you become one with the slow moving life of the waters around you.