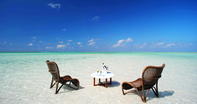 A Relaxing beach holiday in Africa offers the perfect getaway to completely relax and unwind at one of the many beautiful hidden gems off its coastlines.
Take the ultimate beach getaway off one of Africa's pristine and exotic coastlines. The variety of beaches and holiday offerings for those seeking peace and tranquility will not disappoint.
Sip a well-prepared cocktail made from the freshest local ingredients as you lie in your hammock beneath a giant coconut tree by the seashore on a relaxing beach holiday in Africa. Enjoy sundowners on a traditional dhow boat as you watch the breathtaking views of the setting sun as you gently sway with the rhythm of the ocean. Partake in watersports including diving, snorkelling and kayaking on a relaxing beach holiday in Africa.
Dine on fresh local seafood at restaurants located on the beachfront. Take a moment to savour the fresh aromatic salty sea breeze that envelopes your room during the night and day.
Beaches off Africa's Eastern coastline are warm and temperate all year round, making it perfect to soak up the sun and go for a refreshing swim at any time. Pamper yourself to some with some much needed TLC, by visiting the onsite spa and enjoy a soothing massage using only the freshest selection of local products to invigorate your body and soul.
A relaxing beach holiday in Africa is the perfect solution to mentally detox and let go of life's daily stress. Find yourself at ease in one of Africa's many secluded sanctuaries by the sea.