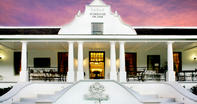 In the heart of the Cape Winelands, just 45 minutes from Cape Town, is the quaint town of Wellington. The town is situated at the foot of Groenberg Mountain, with the Spruit, Berg and Kromme Rivers meandering through the valley.
Wellington is best known for their wineries, agriculture, deciduous fruit and brandy making. Staying at Wellington Hotels will give you the opportunity to discover all this charming area has to offer.
Wellington historically was a last outpost town as it is bordered by the Karoo to the north. This resulted in most French nationals setting in the town. Wellington is alive with history, architecture, fine dining, wine tasting and outdoor activities. Wellington wineries are conveniently close to one another and the town boasts the majority of South Africa's wine-cutting nurseries due to the climate and rich soil.
Welling is best visited in the spring or summer due to the Mediterranean climate. The months from June to mid-September are the rainfall season with summer warming to 30C on most days. Wellington's slow-paced lifestyle, quaint village and rustic country restaurants and wine farms are the epitome of a tranquil getaway.
Stay at Wellington Hotels in the Cape Winelands.