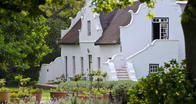 Paarl accommodation in hotels and wine estates lets you explore the Cape Winelands and return to a luxury haven at the end of the day.
Paarl is a major wine and fruit-producing area of the Western Cape in South Africa. It is known for its scenic beauty, beautiful architectural buildings and Cape Dutch houses, its fantastic Cape wine estates as well as the huge granite rock that forms three rounded outcrops that make up Paarl Mountain. It is also the town with the longest main road, lined with old oak trees, in South Africa.
Paarl is home to a unique cultural attraction which is the Afrikaans Language monument which was built here because it is where the foundation of the Afrikaans Language was laid. The famous KWV (Co-operative Wine Growers Association) is based in Paarl and it has over 50 wine estates on the Paarl Wine Route. Paarl gained international attention when Nelson Mandela walked out of the prison here (where he stayed in a private house on the premises for the last 3 years) after 27 years in jail.
Paarl activities include guided walking tours to see and hear the history of the 17- 19th Century's magnificent Cape Dutch buildings, scenic drives, cultural Township visits, golf, Polo, Absail, Alpaca weaving studio, hiking trails, excellent restaurants and the Paarl wine route with wine tasting opportunities.
Paarl Rock itself is very popular with seasoned rock climbers. From Cape Dutch architecture designs to very modern establishments, see below Paarl accommodation.