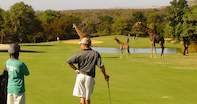 Golfers watch wildlife on the Hans Merensky Golf Course in Limpopo.
As an alternative to Limpopo hotel accommodation, these Limpopo Country Lodge Estates are located on large estates where you can embrace nature and engage in activities including golf, fishing, nature walks and more.
Top Limpopo Holiday Destinations
Limpopo Country Hotels
Limpopo is place filled with scenic landscapes, cultural heritage, an abundance of wildlife as well as many myths and legends of ancient civilisations. On the eastern side of the Limpopo lies the famous Kruger National Park with its exotic wildlife. Limpopo is therefore an ideal base from which to explore this amazing natural gem.
Things to do
Other exciting activities in and around Limpopo include hiking in the Soutpansberg, visiting historic cultural sites, walking safaris in Kruger National Park and game drives at one of the numerous private game reserves. Enjoy a round of golf at
Hans Merensky Golf Course
where wildlife are known to wander onto the course!
Country Romance
Limpopo boasts modern towns, good roads and excellent hotel and country lodge accommodation. Guests can enjoy some pampering at one of the lavish country hotels, experience pure romance at a Limpopo lodge or be treated like royalty at one of the 5 star country retreats.
Experience the beauty and culture of Limpopo in the comfortable and luxurious country hotels that offer warm welcomes, exceptional meals and an intriguing atmosphere.
Limpopo Hotels